The vibrant and colourful city of Trinidad lies close to Cuba's west coast in the central province of Sancti Spiritus.

It's one of the most historically important cities on the island, thanks to its UNESCO World Heritage status that it gained back in 1988, picture-perfect cobbled streets, and well-preserved pastel buildings.
Trinidad was founded in 1514, but it was later when the region was the center of the sugar trade during the 18th and 19th centuries that the city floruised, but today its main industry is tobacco processing and tourism. There's much to see in and around Trinidad.
The neighboring Valle de Los Ingenios is simply stunning to visit and photograph; there are beautiful white sandy beaches fringed with palm trees offering a multitude of water sport activities; plus, 20 kilometers away, you will find Topes de Collantes, a beautiful rainforest area with cascading waterfalls and hiking trails.
The city of Trinidad itself is a living museum with several interesting buildings to explore. You can relax in local parks, experience fabulous restaurants, and attend colorful festivals.
Top Things To do in Trinidad, Cuba
Visit Plaza Mayor Trinidad, Cuba
If you want to blend in with the locals, head for Plaza Mayor in Trinidad.

The main square is surrounded by jaded colonial buildings housing museums and residential homes, and the park itself is flanked by towering palm trees, marble sculptures, and benches where you can sit with a drink and watch the world go by.
In 1988, the plaza was designated a UNESCO World Heritage Site, and with a rich history dating to the 18th-century sugar cane industry and the slave trade, it's a part of the city that should be explored in depth.
See the Famous Statue at Church of the Holy Trinity
As you walk northeast of Plaza Mayor, you will find the Church of the Holy Trinity.

Completed in 1892, the church is one visited by many tourists as it contains an 18th-century wooden statue of the Lord of the True Cross.
The statue has been housed in the church since it was unable to make its original journey to Veracruz and had to turn back due to bad weather.
Locals saw this as a sign from above, and today the statue is revered by many from Trinidad and the surrounding area.

On the right side of the Holy Trinity Chruch is where the "musical stairs" and Casa de musica are located.

The stairs are the most popular wifi spot in all ofTrinidad and the bars in the middle of the stairs hosts live music every evening, with local salsa dancing.
See Pre-Columbian and Colonial Artefacts
On the eastern side of the square stands Museo de Arqueologia Guamuhaya, so-called after an indigenous Cuban dialect.

The museum displays several collections of Pre-Columbian artifacts in addition to relics discovered from the Spanish conquest.

Another fun fact is that explorer Alexander von Humboldt apparently stayed here during his explorations of the Americas, and a sculpture of him resides in the courtyard.
Gain a Birds Eye View of Trinidad
Palacio Cantero was once one of Trinidad's grandest houses. It stands in Plaza Mayor with a kind of faded grandeur, the legacy of its heyday lost amidst the sands of time.

The colonial-style mansion was built in 1828 by one of the wealthiest men in Trinidad, Don Jose Mariano Borrell y Padron, and today, it houses the Municipal History Museum.

Large rooms are lined with Italian marble floors, the history of the area is displayed at every turn, and you will also learn about the sugar cane industry, the slave-trading that happened around the city, as well as Cuba's wars for independence.

In the courtyard, the tower offers incredible views over the main square, the city, and all the way down to the Caribbean Sea, so don't forget your camera!
Discover the Frescoes of Palacio Brunet
Palacio Brunet in Plaza Mayor is a delightful colonial mansion once owned by a wealthy sugar trader. These days, the building is home to the Museo Romantico, or Romantic Museum, which displays multiple collections from the original Brunet family home.

The beautiful neo-Classical mansion features original frescoes, painted tiles, and several artworks, porcelain, and glassware pieces.
Climb Trinidad's Bell Tower
Almost opposite Palacio Brunet, what is the most reconisable landmark of Trinidad the Church and Monastery of Saint Francis / Iglesia y Convento de San Francisco (Museo Nacional de Lucha Contra Bandidos/National Museum of the Struggle against Bandit.)
This beautiful building with a painted yellow bell tower was built in 1813 by Franciscan friars and was once a garrison for the Spanish military.
But today it's a museum showing the history of the war 1961 – 1969 between the USA sponsored anti-revolution group and the Fidel revolution soldiers.
There's a a part of a American U-2 spy plane that got shot down in the hills surrounding Trinidad in October 1962.
For 1 CUC you can climb the bell tower and get a great view of the city. But be aware the que to get to the top of the tower can be long.
Try a Canchánchara at La Casa de la Canchánchara
When you finally get tired of walking around on the stone Cobbled backstreets, you should head to La Casa de la Canchánchara, to try the famous drink Canchánchara.

Personally, I would prefer an ice-cold beer, but visiting Trinidad without trying the famous Canchánchara would be like going to France and don't drink wine or going to Mexico and not trying Tequila; it just had to be done.
Canchánchara is made of 2 oz of aguardiente, 2 spoons of honey, 1 teaspoon of lemon juice, and ice best drank off from a clay mug.
Dance the Salsa at La Casa de la Musica
Cubans love their music, and they love dancing, so if you're spending a few days in Trinidad, don't miss out on La Casa de la Musica in Plaza Mayor.

This is a place where you can blend seamlessly with locals, enjoy refreshing drinks, snack food, and even partake in a salsa lesson or three!

Find yourself a table on the steps and watch the action as you sip a cocktail or join in the party atmosphere and shake your hips on the dancefloor!
Hike to Radio Tower Hill
If you've had enough of museums for a while, venture outside the city to Radio Tower Hill. The peak provides some great views of Valle de Los Ingenios.

It takes around half an hour to walk each way and is a perfect way to get your bearings of the city.
Feast on Delicious Food at La Redaccion Cuba
With stained glass door frames, boldly colored shutters, and antique wooden furnishings, this eatery is one of the finest, and most characterful restaurants in Trinidad, Cuba.

The décor is delightful and traditional, and the style of food served is strictly in the comfort zone – think burgers, pasta, and fresh fish dishes.

The center of the restaurant has a communal table, too, offering a great place to get to know locals and other travelers staying in the city.
Trek to the Waterfalls at Topes de Collantes
If you love nature and being out in the wilderness, a day trip to Topes de Collantes should be on your itinerary.

This beautiful nature reserve, nestled in the Escambray Mountains, is home to many of Cuba's endemic plant and animal species and is surrounded by famous UNESCO sites such as the Valley of the Sugar Mills and Trinidad city.

Nature is the star of the show here with crystal clear waterfalls, hidden grottoes, tropical rainforest terrain, and abundant canyons.

There are over 40 species of orchids, hundreds of ferns, Hummingbirds, and Cuba's national bird, the tocororo, also lives here, making it a popular place for photographers, birdwatchers, and hikers alike.

One highlight not to be missed is a hike to Caburni Falls through the coffee plantations.
Valle de los Ingenios
Located around 12 kilometers from Trinidad, Cuba, is the Valley of the Sugar Mills. These three valleys were once a huge center for sugar production in Cuba and existed until the late 19th century.

During peak production times, over 50 mills were operational, and over 30,000 slaves worked across all the plantations.

Today, the UNESCO World Heritage Site covers 270 square kilometers, with 70 former sugar cane mills still on the site.

Although many are in ruins, there are still a few in pretty good condition, especially around Manaca Iznaga, where you can see a tower, the mill owner's house (now a restaurant), and original slave quarters.

Even if you don't make it to the buildings, the scenery alone is spectacular.
Enjoy a Relaxing Day at Playa Ancon
The white sand paradise of Playa Ancon is just 15 km southwest of Trinidad and accessible by local bus or taxi.

It is one of Cuba's best beaches, with crystalline turquoise waters, lush vegetation, and the odd vendor selling souvenirs and drinks.
The soft sandy beach stretches for 4 kilometers offering a multitude of activities from water sports to boat trips to nearby cays, or you can simply relax on a sunbed and soak up the Caribbean sunshine. Another but more popular beach in Cuba is Varadero.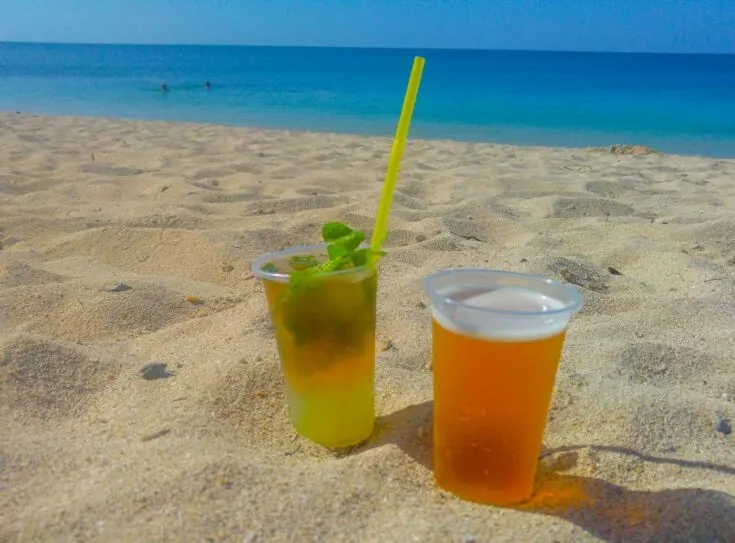 Nearby La Boca – a quaint, traditional fishing village that serves the best fresh seafood and boasts the most incredible sunsets. Be sure to head there before returning to Trinidad.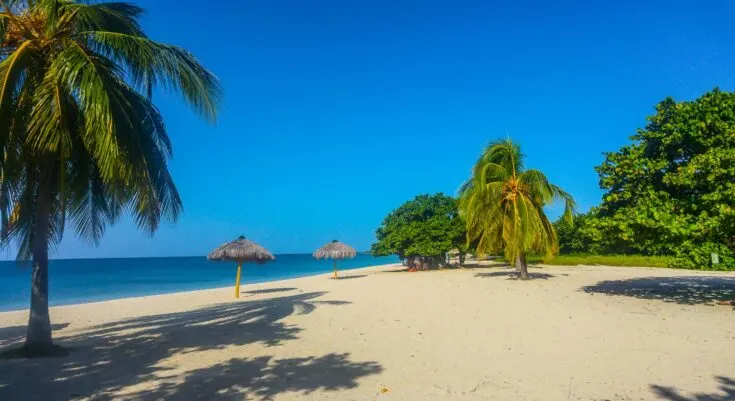 A private Taxi will charge you 8 CUC each way, a shared taxi will set you back 2 CUC.
How To Get To Trinidad, Cuba
Trinidad doesn't have its own airport; however, you can fly to the nearest in Santa Clara, around 1.5 hours' drive, or into Havana, 4 hours away by car.
Getting to Trinidad by Bus
If you prefer to travel by road and admire stunning Cuban landscapes, it's possible to reach Trinidad by bus, shared taxi, or by renting a car in Cuba.
Viazul offers regular bus services to and from Havana, Varadero, Cienfuegos, and Santiago de Cuba to Trinidad.

As this is the cheapest way to travel long distances in Cuba, tickets sell out quickly. Therefore, it's wise to book a few days in advance if you can.
The journey time from Havana to Trinidad by bus is 7 hours. It takes 9.5 hours from Viñales, 6.5 hours from Varadero, and 1.5 hours from Cienfuegos.
Shared Taxi to Trinidad
Another unique way to travel to Trinidad, Cuba, is via Taxi Colectivo – or shared taxi.


It costs around the same price as the bus, give or take a few cents, and it's a perfect option if you have met other like-minded travelers en-route or are vacationing with a group of friends.
Driving in Trinidad Cuba
If you are thinking of driving to Trinidad, Cuba, there are a few things to consider.

Firstly, rental cars should be booked several months in advance if you plan to collect the vehicle at the airport on arrival. Secondly, there aren't many gas stations along the main autoroutes, so fuel up and carry extra in a can.

Lastly, it can be quite perilous driving in Cuba at night as cattle roam freely and roads aren't fantastic. Try to stick to daylight hours for longer drive times and rural journeys.
Best way of Getting Around Trinidad
It's easy to get around Trinidad. The historic cobbled streets and old colonial houses are perfect to explore on foot, and as most attractions are centered around Plaza Mayor, you won't have to walk too far!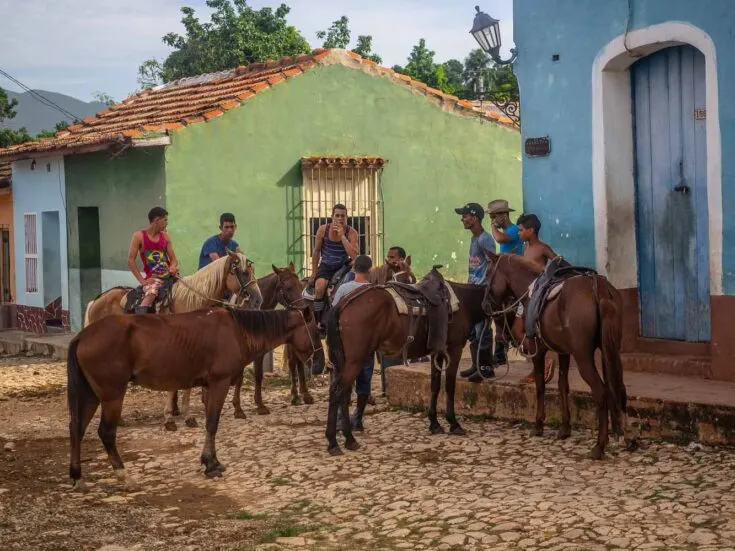 Registered, state-owned taxi services are available for trips around Trinidad and to nearby Playa Ancon with its powdery beaches and activities. You can hire them privately for excursions or opt for a little three-wheel taxi if you just need to travel short distances in Trinidad.
If you plan to drive in Cuba, there's much to explore in the surrounding areas, including Topes de Collantes in the Escambray Mountains and Valle de Los Ingenious. The daily rates can be quite expensive, and it's advisable to book in advance.
If you fancy the full tourist experience, Trinidad has a dedicated bus tour that travels to landmarks in the city before heading to Playa Ancon and Playa La Boca. It's a great way to get to the beach, and the buses operate from around 9 am and return from the beach around 8 pm.
You also have the option to rent a bicycle. If you're staying in a casa, particularly in Trinidad, your hosts will be able to advise the best places to rent a bike in the city.