Amid the clear waters in the Gulf of Guinea lies São Tomé and Príncipe, Africa's evergreen two-island (three) nation that's filled with rainforests, volcanic peaks, exotic wildlife, delicious fruit trees, and chocolate!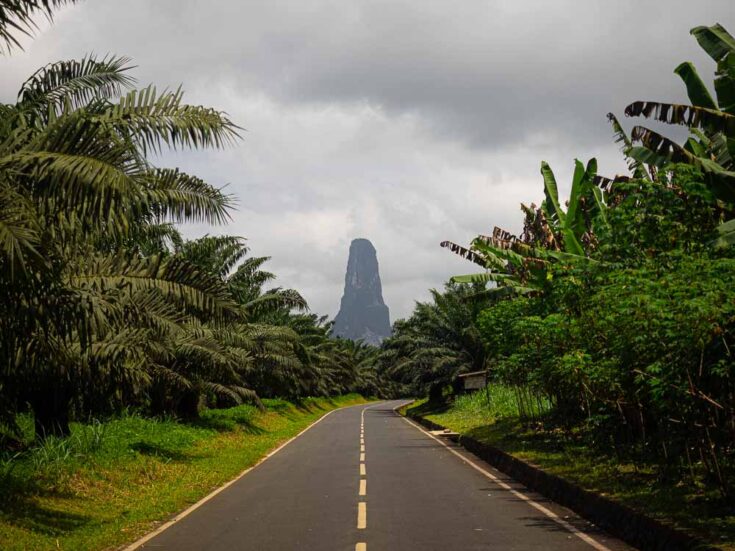 From endless white-sand beaches to tropical black sand shores, São Tomé and Príncipe has everything you need for the ultimate and blissful island life.

These two islands are lush with abundant forest cover. Life here is simple and rustic with a vibe that is fresh, down to earth, and fantastic.
15 reasons why you should visit São Tomé and Príncipe at least once in your life.
1. The local Chocolate and Coffee
Sao Tome & Principe, home to the best chocolate in the world, São Tomé and Príncipe is known for its cocoa production.

The islands have large farms that grow and harvest tons of cocoa each year, so it's safe to say that the chocolate you taste is straight from the source and delicious.
If you're in São Tomé, you must visit the Claudio Corallo Chocolate Factory to see how chocolate is made. There are tours that highlight how chocolate is processed and experimented with.

You also enjoy a tasting session of delectable chocolate infused with caramel, salt, pepper, and coffee.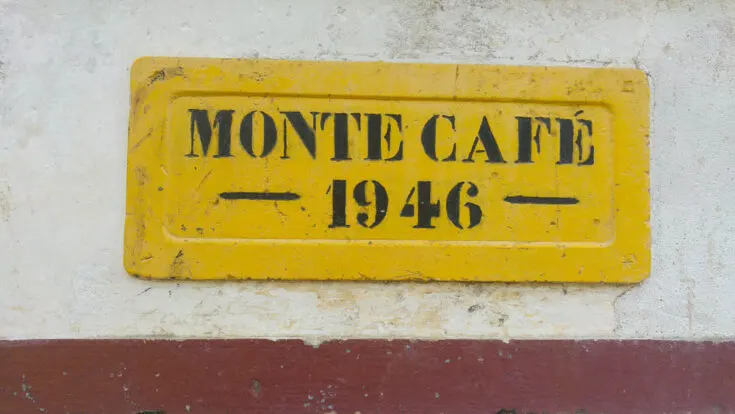 When you're on Príncipe Island, head to Terreiro Velho, a Corallo plantation on the island that grows cocoa, coffee, and pepper. The other plantation is on São Tomé, called Nova Moca.

Coffee lovers must visit these old cocoa farms to taste and watch how world-class coffee is grown, harvested, and celebrated.
2. Snorkel and Scuba Dive in Underwater Paradise
São Tomé and Príncipe are literally where the ocean meets the rainforests. The waters here are clean, pristine, unexplored, undisturbed, and full of sea life.

São Tomé offers tourists an amazing coastline to dive from.
Ilhéu das Rolas is a popular dive site, and the ocean currents crossing the equator bring a plethora of exotic sea animals together.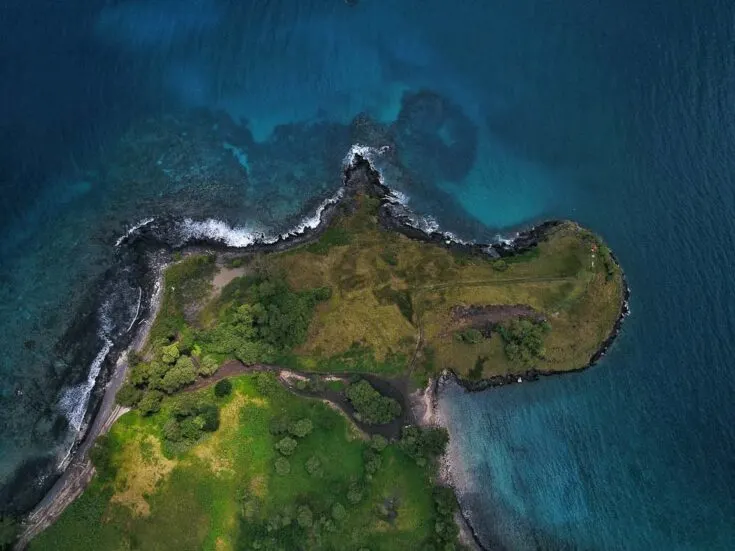 Snorkelling and scuba diving are some of the reasons people come here. Dive in and enjoy the colourful coral reefs, leatherback turtles, sharks, and rays.

Even tho the waters around Sao Tome is pristine, so is it still the Atlantic ocean, so be ready for strong currents and less visibility here than in south-east Asia.
3. Visit the Islands for Its Flora and Fauna
Nature lovers will adore the lush green islands of São Tomé and Príncipe. Stacked with dense forests filled with wildlife you've never seen before, these islands are nothing short of spectacular.
Take a tour of Obo National Park. More than 30 percent of Sao Tome & Principe is covered by this park, and it is home to more than 700 species of unique flora and fauna.

Even the huge Baobabs trees grow around here the same trees as on the famous Avenue of Baobabs in Madagascar.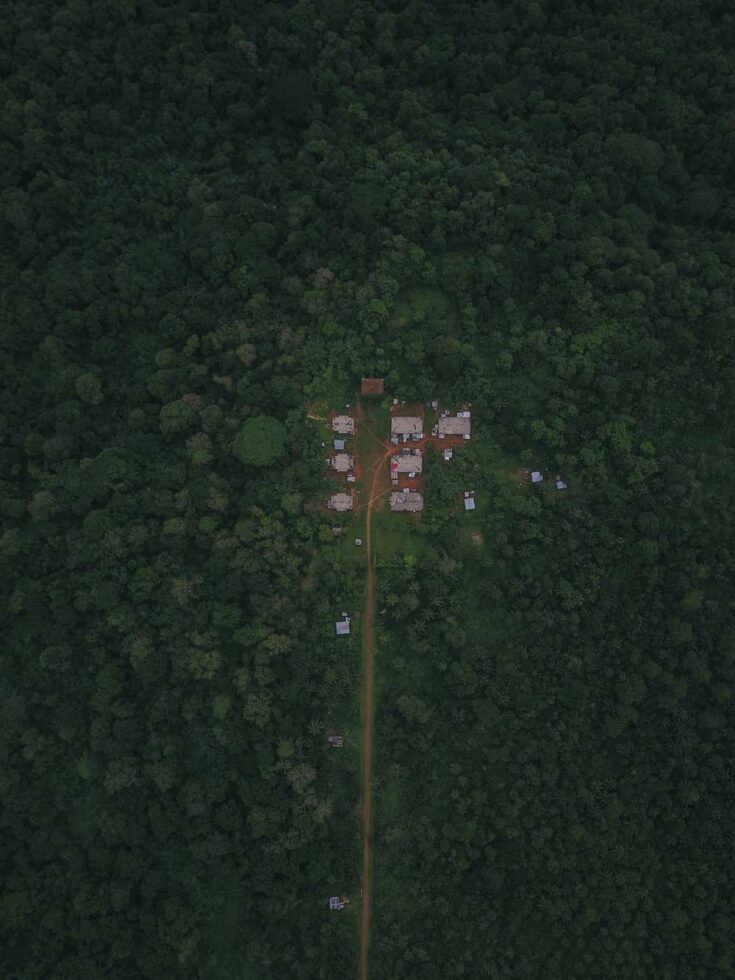 For an incredible waterfall, check out Cataratas da São Nicolau in the central part of Sao Tome. It's riveting, powerful, and magnificent.
The forests of São Tomé and Príncipe are a birdwatcher paradise, and a big part of tourists visiting Sao Tome & Principe are here for birdwatching.

Avid bird watchers must-visit Monte Carmo and the Xufe-Xufe river to catch a glimpse of the ibis, the sunbird, and the São Tomé fiscal.
Another natural site worth visiting is the Boca de Inferno, known as the "Mouth of Hell." This major attraction is a natural blowhole that is off São Tomé's western coast.
The strength of the waves propels water in the air in an explosive and awe-inspiring fashion.
You'll find many more reasons to love São Tomé and Príncipe. These islands are studded with pristine beaches, abundant nature, and the kindest people.
4. Hike Up the Pico de São Tomé the tallest mountain in Sao Tome
If hiking and mountain climbing is your thing, you must take a trip to São Tomé and Príncipe for the Pico de São Tomé.

It is the island's highest peak in the country at 2,024 m (6,640 ft) elevation, and climbing this rock is truly something to look forward to.

Even if you aren't inclined to hike, just the sight of strange mountains covered in lush greenery is a treat for the eyes.
5. Enjoy the Warmth and Hospitality
Among the ten reasons why you should visit São Tomé and Príncipe, the people and their warmth are the most endearing and inspiring of all. Life in these islands is basic and stunningly simple.

Time tends to slow down when you're here, and if you need a break from the fast-paced life in the cities, São Tomé and Príncipe, together with its people, is the place to be.
You'll find that people still drive vintage cars here. Their wooden cottages and old colonial buildings will give you a heartwarming and nostalgic vibe.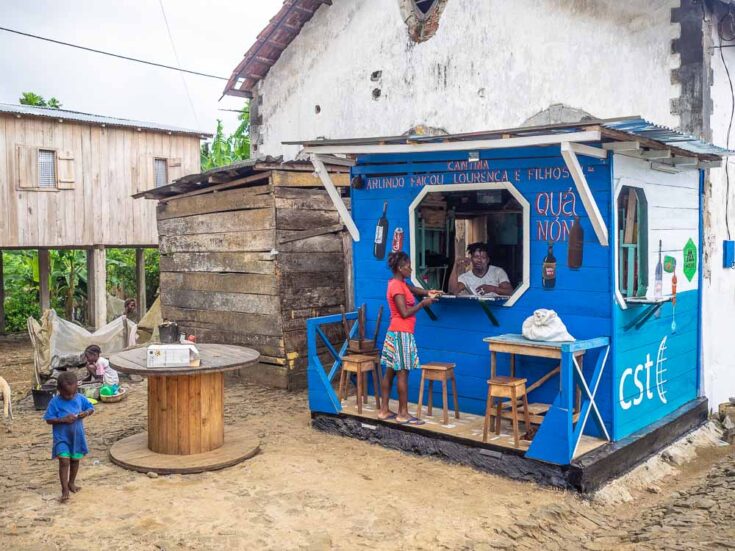 The locals are kind, helpful, and extremely resourceful. They live by a motto called Leve Leve, which means to take it easy. They live off the land and the waters.

They respect their surroundings and are always happy and grateful for what they have. Mingling with the locals and their culture gives one a feeling of being centred.

Spending time with people like this in an idyllic and pristine island destination like São Tomé and Príncipe is living the dream.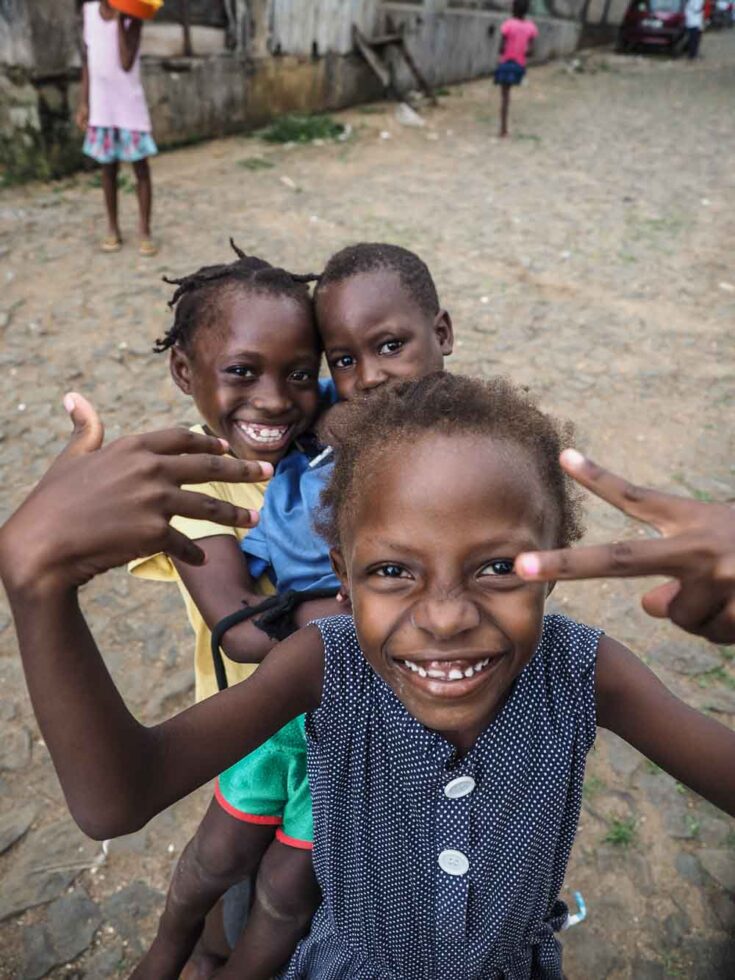 6. Indulge in Ultimate Relaxation
São Tomé and Príncipe is filled with holiday-worthy beaches that will have you extending your trip by a few days.

If you have relaxation on your mind, dig your toes into the sand at the Praia da Sete Ondas, also known as "The Seven Waves Beach."
This beach is a fifteen-minute drive from the city. Just like every other beach in the country, it is clean, picturesque, and has the softest white sand.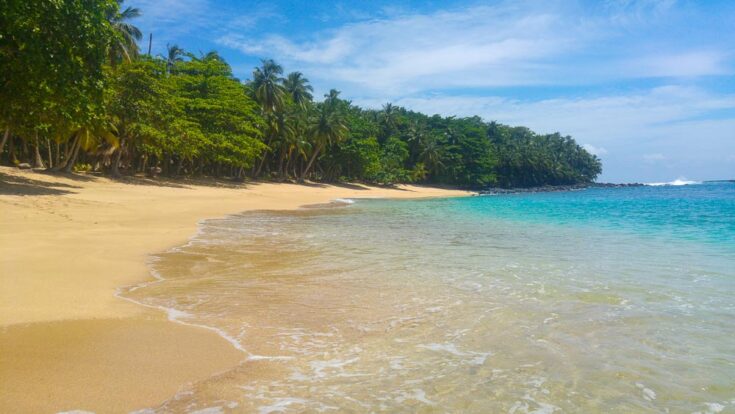 The waters at the beaches of São Tomé and Príncipe are crystal clear and ideal for swimming and relaxing.

Another must-visit beach on the island of Príncipe is commonly referred to as "Banana Beach."

Its unique banana-like shape is due to the way the shore of the beach curves inward.

Studded with an enormous number of coconut trees and glinting turquoise waters, Banana Beach makes for a lovely day out by the coastline.
7. Cozy Up in the Lap of Luxury
The islands of São Tomé and Príncipe offer its visitors all the comfort and luxury they need for a lovely stay.

While looking for a place to stay on the islands, you are bound to come across some stunning properties and beach resorts with the best facilities and the most spectacular views.
If you're looking for a typical tropical stay with a touch of luxury, unmatched ambience, and utmost comfort, check-in at the Bom Bom resort in Príncipe, actually almost all of the old Portuguese Coca plantations on Principe has now been turned into amazing world-class resorts, the only drawback there are no other tourists around.

One of the best places to stay is at the Principe is Roco Belo Monte Hotel, an old cocoa plantation now turned into a beautiful hotel; this is also the closest hotel to the beautiful Banana Beach.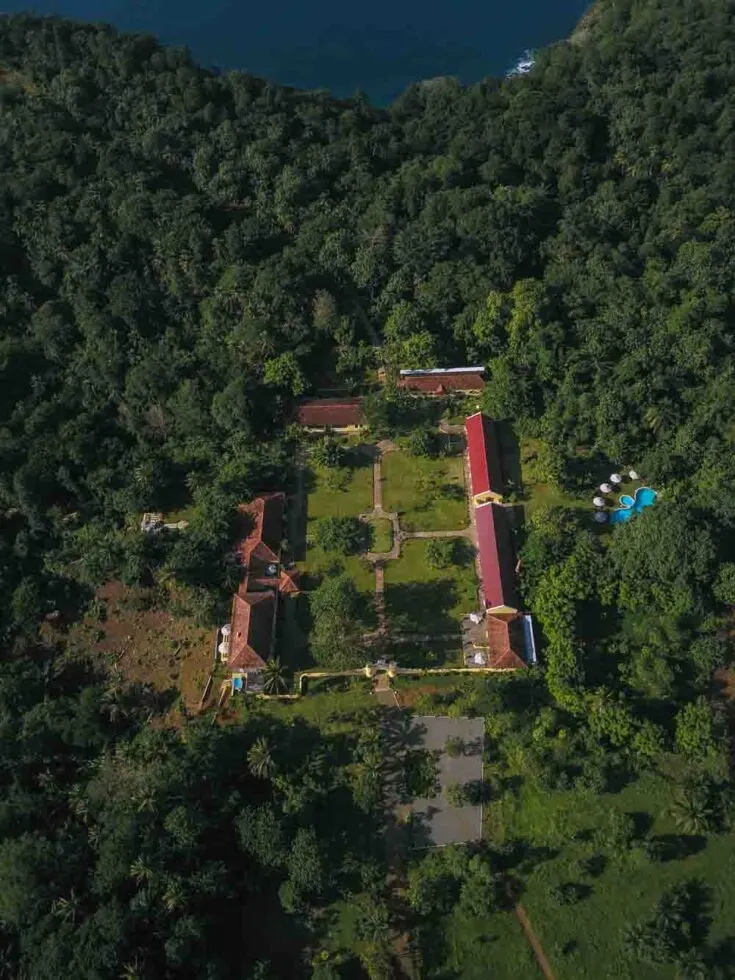 Dwelling deep within an abundant cover of trees and lush greenery, Bom Bom is a nature lover's haven.

This resort is special because you get to stay in quaint but elegant bungalows that offer you views from nature on all sides.

Surrounded by the tranquil waters of the ocean, beautiful gardens, and tropical fruit trees, Bom Bom Resort gives you a memorable stay and a reason to return.
Cottages at Bom Bom resort have minimal embellishments and lovely wooden furniture. Each bungalow features a spacious and airy veranda that lets you be as close to nature as you'd like.
Unwind at Bom Bom's exquisite spa or hire a kayak and catch breathtaking sights of whales and dolphins dancing in the water.

The resorts in São Tomé and Príncipe are a one-stop destination where you will never run out of things to do and places to explore.
8. Experience African Island Culture at Its Best
São Tomé and Príncipe possess an amazing blend of African and Portuguese culture. These two islands are basically where the two unique cultures meet.

Dance and music are a big part of the culture which keeps the vibe fun, exciting, and upbeat.

On any given day, you'll see the locals here doing the samba or dansu-kongu and grooving to the beat of African instruments.
When it comes to souvenirs, you must consider the beautiful coconut shell lamps that are crafted on the islands.
9. Sumptuous and Unique Food
The cuisine in São Tomé and Príncipe features delicacies that are prepared with organic, natural, and home-grown produce.

The islands are home to the best chocolate in the world, but they are also a natural hub for tropical fruits, veggies, and of course, seafood.
The island-centric cuisine is influenced by African, Arabic, and Portuguese flavors. Most often, you will taste tropical flavors that come from exotic fruits like mangoes, pineapples, bananas, and avocados.

Local cooks love to bake as well, and the bakeries here are famous for their Portuguese-style meat-stuffed rolls and baked banana dishes.
The meat dishes tend to be slightly spicy because the people of São Tomé and Príncipe marinate beef and chicken with loads of aromatic spices, wild chillies, and a dash of lemon juice.

This makes Santomean cuisine tasty, tangy, and so appetizing.
10. The Weather Makes It All Worth It
São Tomé and Príncipe are blessed with wonderful, tropical weather year-round. Just like other coastal destinations, the climate on the islands is characterized by moderate heat and humidity.
Summers are bright, sunny, with hardly any rain. The rainy season is wet and lush. Summers are great for exploring the islands and living the island life.
The temperature here never goes above the 27 degree-mark and the best time to visit São Tomé and Príncipe is between the dry months of June and September.
11. Cross the Equator and visit Ilhéu das Rolas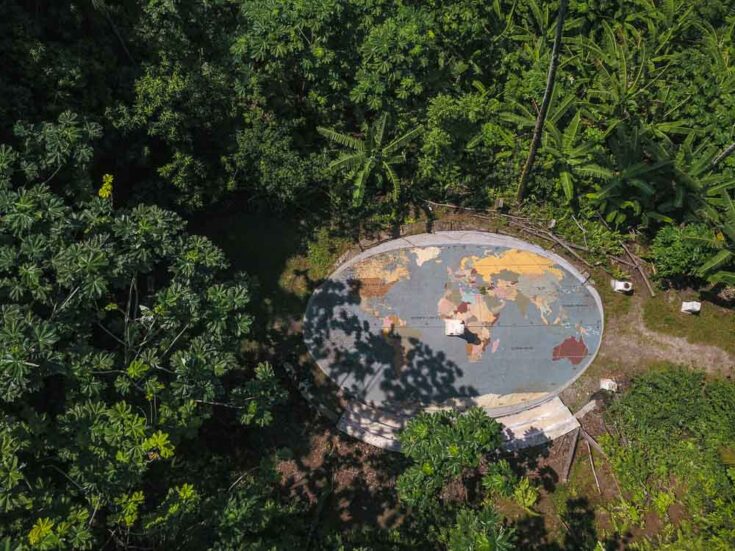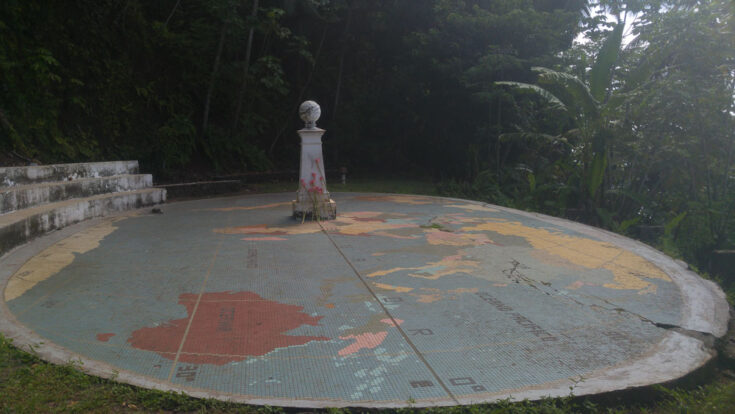 The Equator line runs just south of the main island of Sao Tome, just a few hundred meters away, so close jet so far away.

But you can still stand on the Equator line in Sao Tome if you which to, but you will have to travel to the tiny island of Ilhéu das Rolas.

The third island in Sao Tome & Principe, the tinny island of Rolas, is home to only 78 people, and the luxurious Pestana Equador – Ilhéu das Rolas resort. One of the most luxurious places in Sao Tome but also one of the most expensive ones.
12. Try The Local Rum
Sao Tome & Principe don´t have much when it comes to local alcohol, the most popular beer here is imported from Portugal, but some young local artists in the capital, have started their own small Rum distillery, with some absolutely amazing rum.

Still, the only place to try it is at the small local artist house, one of the best places to hang out for a beer.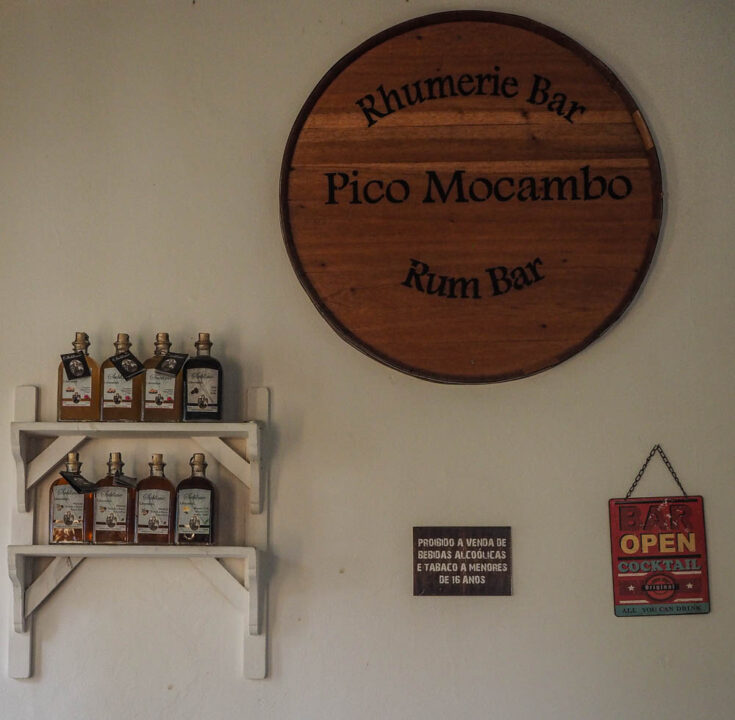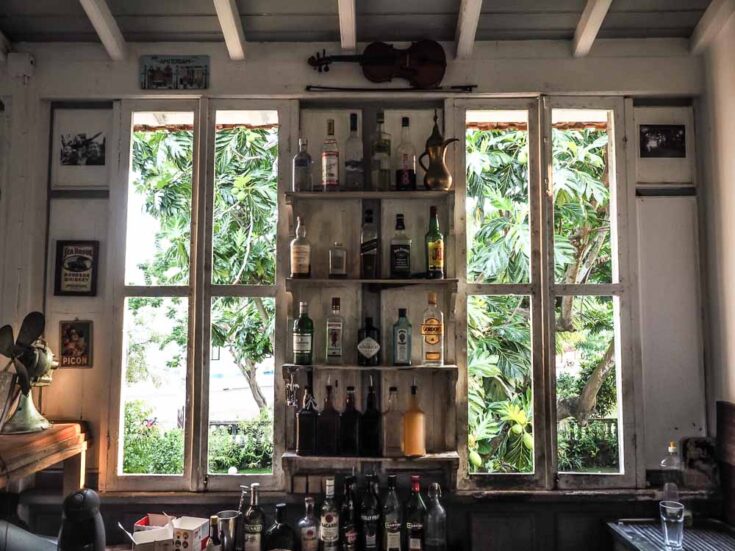 13. Visit Some of the old Portuguese Colonial Ruins.
Sao Tome & Principe was a colony of the Portuguese empire from its discovery in 1470 until 1975, when independence was granted by Portugal. So it should be no surprise that Sao Tome & Principe is full of old Portuguese colonial buildings all over the country.
With most of the old coco plantations now been turned into beautiful 5* star boutique resorts, but there´s still a lot of old Portuguese buildings that nature has taken over and others that locals are still living in.

And when walking around the few towns in the country, there are almost only old colonial buildings, but unfortunately, so are most of them falling apart, after years of no maintenance.
The Portuguese introduced coffee and coca to Sao Tome & Principe in the early 19th century, São Tomé and Príncipe became a major global cocoa production area for several generations, and in the first decades of the 20th century, Sao Tome & Principe was the world's annual number one cocoa producer.
Maybe the most impressive Portuguese ruin in Sao Tome these days is the old Roça Água Ize hospital building from 1928.
14. Visit Principe Island
Principe is the smallest and least developed of the two (three) islands that make up the country.
If you had the thought that the main island Sao Tome was unexplored and beautiful, wait until you visit Principe.

The only time Principe has probably been mentioned in the big news around the world was when the Roça Sundy Cocoa Plantation (now been converted into a beautiful hotel), was the first place that Einstein's Theory of Relativity was tested and proven in 1919 by a British astrophysicist Sir Arthur Stanley Eddington.

Even though 100 years have gone by and left Principe alone, actually, the southern part of Principe is now a UNESCO Biosphere Reserve; it´s home to no more than three spice of turtles, including being a hatching spot for the leatherback. As well as this, Principe is now home to what is considered to be one of the best chocolates in the world, Claudio Corallo.
Reaching Principe is not the easiest thing in the world; there is only one flight a day from the main island of Sao Tome.
Principe only has one town, Santo Antonio, often called the smallest town in the world. So if you're not staying on one of the four expensive resorts in the northern part of the island, Santo Antonio is the only other place that offers accommodation on Principe.
15. Hike to Pico Cão Grande
Maybe the strangest looking mountain in the world is located in Sao Tome & Principe; the Volcanic tower, which is known as Pico Cao Grande 668m (2,192 ft)or "Great Dog Peak" is one of nature's most impressive high-rise rocks anywhere in the world.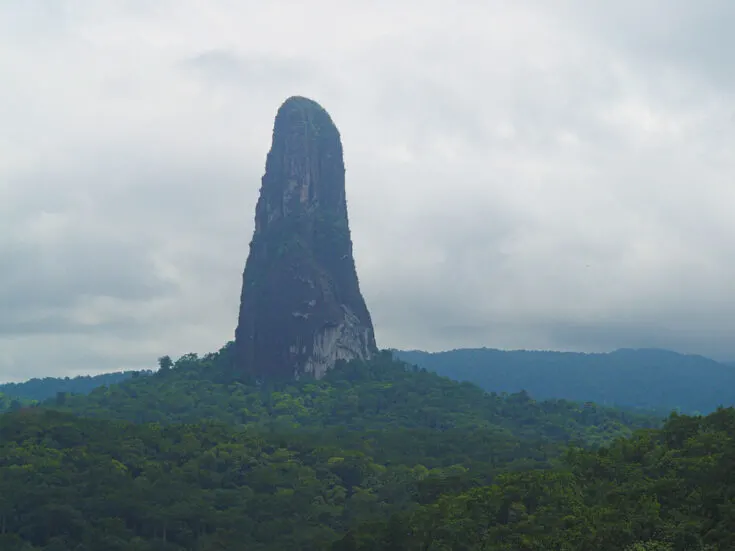 Poco Gao Grande is viewable from the main road when driving the southern part of Sao Tome, but there are a few better viewpoints along the way.
If you plan in advance, is it possible to do a 3 km hike through the thick jungle to the base of the Pico Gao Grande.
The path is said not bee marked, so you are required to hire a local guide in advance.
I got told it would cost you 40Euro for a full day. I would definitely have done this if I knew it.
Pico Gao Grande was first climbed in 1975 by a Portuguese team of climbers. In June 2016, a group of climbers from England established the first rock climbing route on the peak. The route is considered to be both extremely long and technically very demanding. The climb is graded 5.13b (F8a) or harder.
Like it? Share it! Pin It!