Stretched across the mountains of Longsheng County, you'll find the magnificent Longji Rice Terraces.

Its name, 'Longji', means Dragon's Backbone in Chinese and refers to the summit of the mountains resembling a dragon's backbone while the terraces look like the scales of a dragon.
These manufactured wonders were built by the Zhuang and Yao ethnic minority groups during the Yuan and Qing Dynasties – that means many of these rice paddies are over 650 years old!
Visiting these terraces and the surrounding villages does not only offer you the chance to explore these incredible man-made wonders.

It also presents you with the opportunity to learn about the history and culture of the area and its locals.
A Complete Travel Guide to the Longsheng/Longji Rice Terraces
While many people are familiar with the Yuanyang Rice Terraces in China, fewer know of the rice paddies in Longsheng County.
This travel guide contains everything you need to know about visiting the Longji Rice Terraces.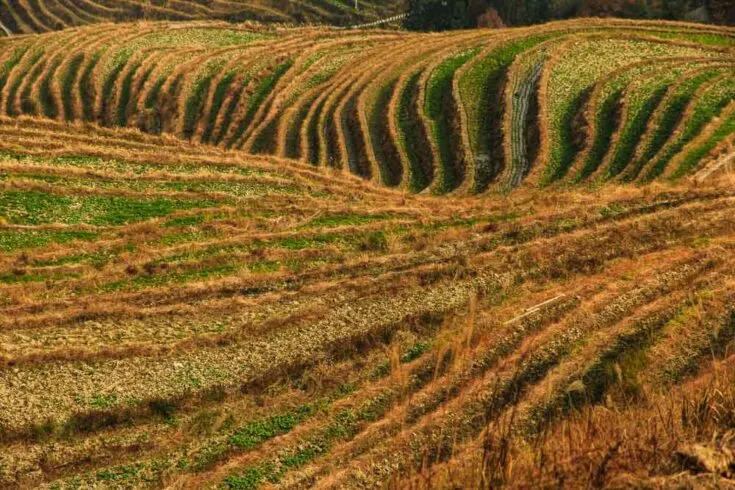 Best Time to Visit the Longsheng/Longji Rice Terraces, China
No matter what time of the year you visit the rice terraces of Longsheng, you'll have spectacular views. However, you will have completely different scenery depending on the time of the year.
Mid-April till mid-June is when the rice terraces will be brimming with water. With the sun glistening off the water, this makes for a particularly spectacular view.
Between June and mid-September is the growing season. During this time, the rice paddies become filled with green rice shoots.
From the end of September through October, the rice will be near ready for harvesting. The rice paddies' plants will now have turned a golden yellow color. The first two weeks of October are when you'll see the farmers harvesting the rice/fields.
From mid-October until April, the rice terraces are empty – leaving nothing more than their exposed soil. However, you may see snow.
Getting to the Longsheng/Longji Rice Terraces from Guilin
Guilin is located around 100 km south of the Longji Rice Terraces. The only way to reach this scenic destination is by bus, a private tour from Guilin, or organizing a private vehicle. The roads aren't great, so be prepared for a bit of a bumpy 2.5-hour drive. And ill recommend you not to get a front seat, it can be scary.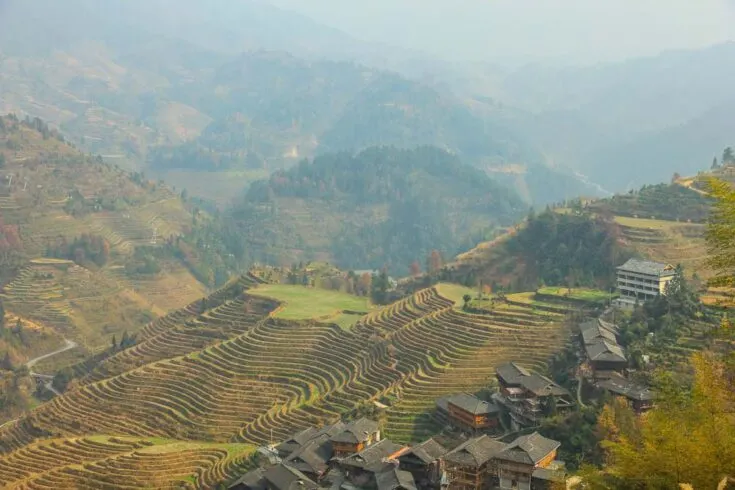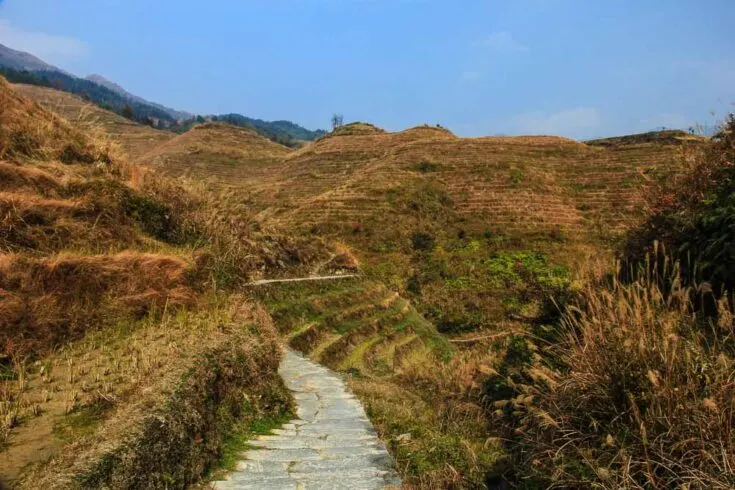 Getting to the Longsheng/Longji Rice Terraces by Bus
From Guilin, you can catch a bus from Southern Guilin Bus Station (also known as Qin Lan Bus Station). Buy a ticket for one of the buses to Longsheng town, and hop on! The tickets cost around 4,23-5,39 $ CAD (22-28 RMB).
You can take the bus all the way to Longsheng town, where you'll have to hop off and get a connecting bus. However, it's best to get off in the village of Heping at the Longji Intersection as there are far more connecting bus trips from here.
From the Longji Intersection, head to the Ticket Office of Dragon's Backbone Rice Terraces Scenic Area. From here, you'll buy another ticket for the buses that drive up to Dazhai Village or Ping'an Village.
These buses depart every 45 minutes from 7:00 till 17:00, and the tickets cost approximately 1,92 $ CAD (10 RMB).
Getting to the Longsheng/Longji Rice Terraces by Private Shuttle
For a more convenient trip, you should consider a private shuttle. This will cost around 67,32 $ CAD (350 RMB) from Southern Guilin Bus Station. You'll find that your hostel or hotel will be able to organize a shuttle for you too.
The Dragon's Backbone: Scenic Viewpoints
There are several viewpoints that offer breathtaking views of the rice terraces 'steps' down the mountains. Ping'an and Dazhai village offer some of the most spectacular views.
Ping'an Village Viewpoints
The Ping'an Rice Terraces were the first to welcome tourists. So, you'll find that the area and viewpoints have been developed to cater to tourist needs.
Seven Stars With the Moon – Named after the seven piles of stones sitting in the middle of this moon-shaped field, this viewpoint is a great place to snap a couple of shots.
Nine Dragons and Five Tigers – Also known as Nine Dragons, this scenic spot's name represents the nine ridges that branch off of the central one. People say that the nine ridges resemble dragons bending over the Jinsha River, drinking water. Along the ridges, you'll also see five tiger-like rocks – hence the name.
Dazhai Village Viewpoints
Dazhai Village and its rice terraces are located further up than that of Ping'an. So, you can expect some incredible views here.
Large-scale thousand layer terraces – While the viewpoint's name might leave you breathless, the actual view will leave you speechless. From this scenic spot, you'll be able to fully appreciate the rice terraces and scattered homes of the Yao people below. Early risers should definitely try to catch the sunrise from this point.
West Hill Music – Sitting at an altitude of 3870 feet (1 180 m), this scenic spot is the highest point on the rice paddies. From this vantage point, you'll have panoramic views of the terraces and surrounding scenery. It takes two hours to reach this spot from Dazhai. The West Hill Music viewpoint is the ideal spot for sunrise, sunset, and photography opportunities.
Golden Buddha Peak – One of the biggest draws of this viewpoint is the fact that you can hop on a cable car and be at the viewing platform in a matter of minutes. What a pleasure! The Golden Buddha Peak is a great spot for sunset pictures.
Where to Stay When Visiting the Dragon's Backbone
Over the last few years, the Longsheng Rice Terraces of China have been increasingly attracting tourists from across the world. So, if you find yourself planning a visit to these wonders, you'll need to find a place to stay.
Luckily, there are plenty of options. Whether you're looking for a comfortable hostel or a luxury-style hotel, you'll find something to suit your budget and lifestyle.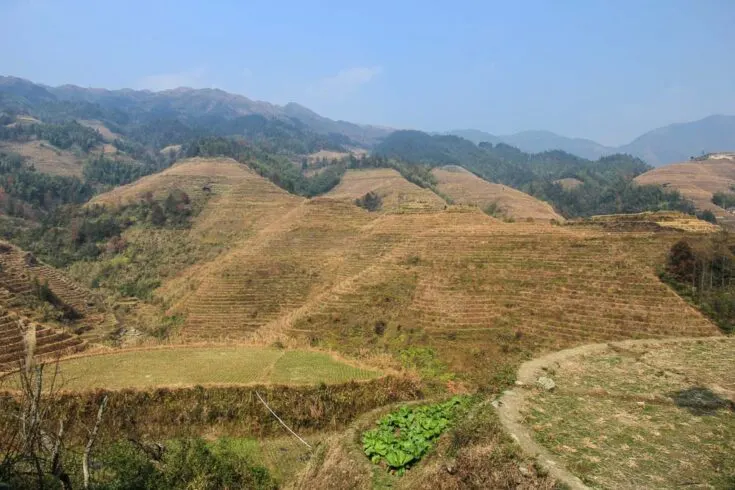 When booking accommodations, you'll have to decide between staying in the villages of Ping'an and Dazhai or staying in Guilin and driving through.
Where to Stay in Guilin
If you're looking to indulge in luxury accommodation, then Zen Tea House Seven Stars Park is just the place for you. With Zen-style decor and a tranquil atmosphere, this is a great spot to relax after a busy day exploring the rice terraces.
Ease Hostel is perfect if you're looking for clean, budget-friendly accommodation. You'll also get the chance to mingle with many other travelers too.
Where to Stay in Ping'an
Ping'an was the first village in the Longsheng area that began catering to tourists. So, you'll find a variety of options when looking for accommodation here.
The Long Ji International Youth Hostel provides comfortable, rustic-style rooms and delicious local cuisines served from its kitchen. And at an affordable price too!
For those looking to treat themselves, the Baike Boutique Hotel offers stylish rooms with spectacular mountain views.
Where to Stay in Dazhai
Dazhai Village is fast becoming as popular as Ping'an. Nestled (higher) up in the mountains, many of the hotels and hostels here have gorgeous views of the valleys and rice terraces.
Dragon's Den Hostel and Lost In Beauty Guest House are two accommodation options that offer breathtaking views and a fun, adventurous atmosphere.
Longsheng/Longji Rice Terraces: Things to Do
While many people simply come to the Dragon's Backbone to take in the views, there's more on offer in this mountainous area.

With natural scenery and traditional villages, you can definitely spend more time exploring the region and learning about the local people and their customs.
Hiking the Dragon's Backbone
If you're looking to surround yourself with nature, then hiking along the Longji Rice Terraces is a great idea. There are several hiking trails between the villages; two top options include:
Ping'an to Longji Ancient Zhuang Village (2 hours)
Dazhai to Ping'an (4-5 hours)
There are many smaller paths leading off the hiking trails, so it's easy to lose your way. It's recommended that you take a tour guide on hikes. If you do decide to go on your own, the farmers are often very friendly and willing to help.
Immerse yourself in the local culture
If you're interested in learning more about the history and culture of the people living in these remote parts of China, then spending time in the villages is what you need to do.
The Longji Old Zhuang Village remains the most traditional of the Zhuang minority village in Longsheng. Here, you'll see some of the oldest and largest buildings built on stilts in the Guangxi region.

You can easily reach this village as it's only 3km southwest of Ping'an Village.
Another village with some interesting customs is that of Huang Luo with its Yao people. Also known as the 'World's Top Long Hair Village', the women here wear their hair long. Many have hair that's over a meter long. The longest measures 2.1 meters – imagine that!
Longsheng Rice Terraces: Travel Tips
Exploring these Chinese rice terraces is an exciting experience. To ensure you have the best time on your trip, be sure to consider the following tips.
It costs about 19,24 $ CAD (100 RMB) for adults to enter the Longji Rice Terrace Scenic Area, so be sure to have cash with you.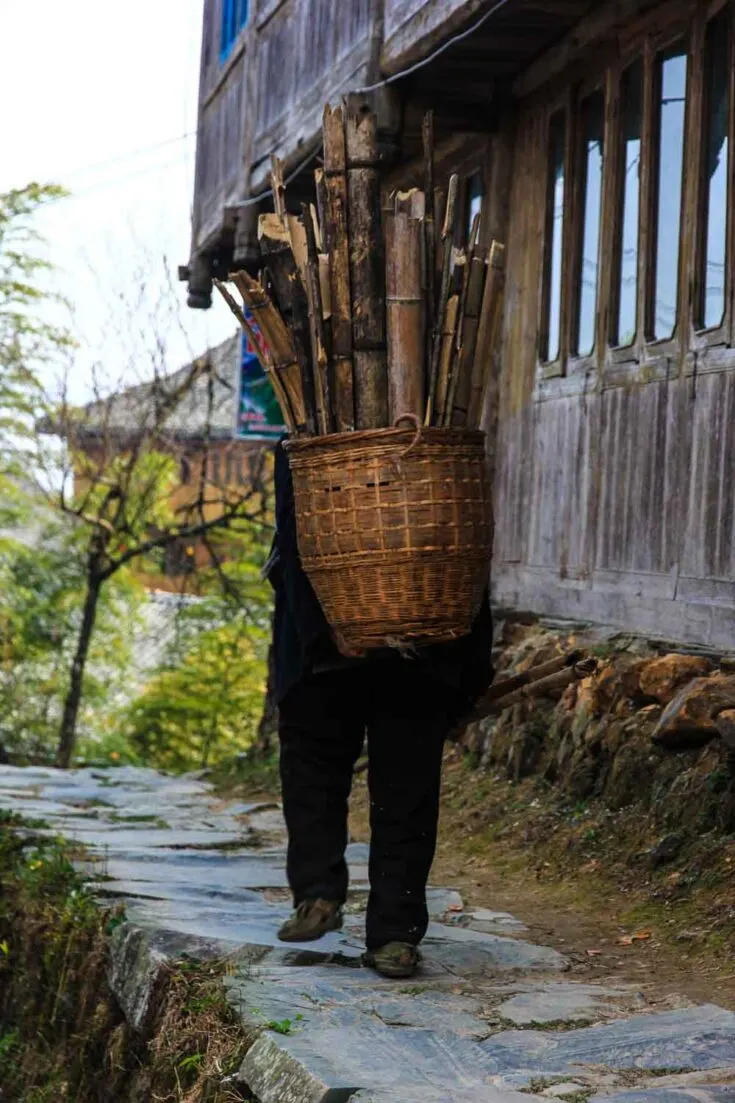 The Dragon's Backbone is located in a mountainous region, so it is often much cooler here. Be sure to pack the proper type of clothing that will keep the chill-out. It's also important to wear the right climbing or hiking shoes, especially when you're hiking up to the scenic points, as the paths can get slippery.
Finally, if you want to visit the rice terraces for hiking or photography purposes, the best time of the year to visit is during autumn and spring.
Final Thoughts on the Longsheng/Longji Rice Terraces
China is full of amazing natural wonders and beauty, like Yunnan Stone Forest in Southern China and Jiuzhaigou National Park in Sichuan province, which is probably the most beautiful national park in all of China.
Among these wonders, the Longji Rice Terraces are something just as special. Not only do you get to take in spectacular views, but you also get to learn about the people in the area and their rice-growing practices, which are centuries old.
What was once a hidden gem is fast becoming a popular attraction amongst tourists.

So, if you want to experience the natural splendor of the Longsheng/Longji Rice Terraces, now is the time to go.

If you are heading to Guilin or Yangshuo next be sure to check out this post about Li river cruise.