Algeria is the largest country in Africa and by far the most challenging country I have ever visited when it comes to obtaining a visa.

But it was definitely worth the hassle, but to make it easier for you, I've put together this Algeria travel guide.
Algeria has a fantastic diversity of landscapes, with the Sahara desert in the south, beaches along the Mediterranean sea to the north, mountains that offer excellent hiking during the summer, and skiing opportunities in the snow during winter.
Algeria also has an extremely rich history with 7 World Heritage sites and is one of the most socially developed countries in the whole of Africa.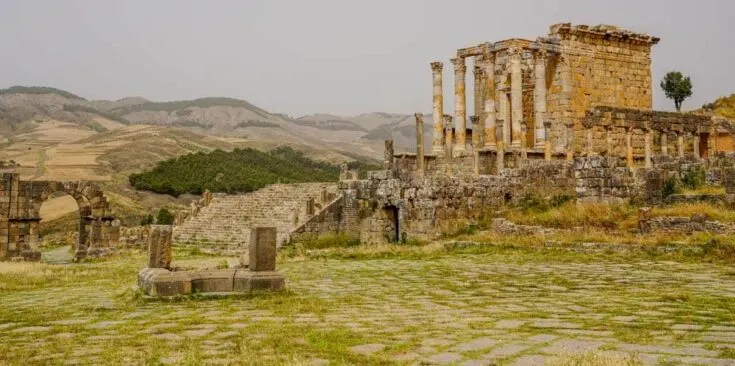 What Is Algeria Like?
Algeria was known as French Algeria for 132 years (1830 to 1962), so it´s no surprise that some of the cities here will make you feel more like you are walking around France than wandering around an African country.
Algeria has had a bad reputation in the past for armed terrorist groups, often targeting foreigners from the civil war that only just finished in 2002.
However, today, those problems are long gone. Algeria is now a very safe country to visit.
Visit Algeria Travel Guide
There are, unfortunately, no English Guide Books for the country, no Lonely Planet, no Bradt Guide. So I always decide to do it the hard way, by going out myself to see what the country has to offer.
I traveled around Algeria for ten days.
My route was: Algiers – Cherchell –Tipasa – Djemila – Constantine – Taghit – Oran – Tlemcen – Algiers.
I was also planning to visit far southern Algeria, but the weather in July was just too hot.

Every hotel and driver I tried to contact in the southern part of the country told me they were shut down during July.

Even in Taghit, the temperature reached +48C/118F in July.
Whether you're backpacking Algeria or planning a more luxurious vacation, here's everything you need to know.
Visa For Visiting Algeria
The Algerian visa has proven to be the single most challenging visa for me ever to obtain. Two times I have gotten my application rejected without any reason. But 3rd time's the charm.
Visas will be refused to citizens of Israel and anyone with stamps and proof of visiting Israel, which includes stamps of Egyptian/Jordanian neighboring land borders with Israel.
Everyone needs to obtain a Visa in advance from an Algerian embassy/consulate. You can only apply in your home country or country of residence.
You are required to provide proof of income, health insurance, flight, and hotel reservations. It's not stated on the embassy website, but I was also required to provide an invitation from a local government-licensed Algerian tourism agency.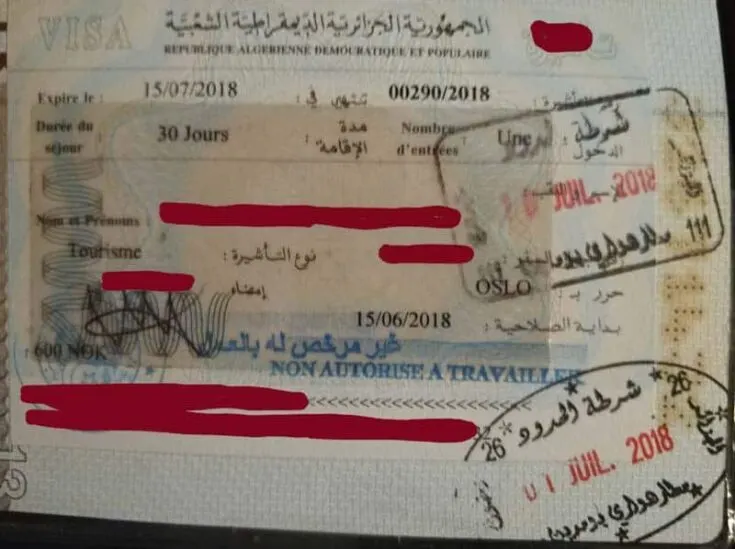 I can highly recommend choosing Omar and Fancy Yellow Tours.
I also needed a signed letter from the company I work for that I worked there, signed by the director. A signed letter and proof of income were requested by the embassy almost two weeks after I first applied.
The whole process took nearly five weeks. The visa also takes a full page in your passport.

It's also important to know that the visa starts running from the day of issue, NOT the day of entry, which can be a pain if you are planning longer trips were you are planning to visit other countries first.
Travel To Algeria
There are currently three ways to arrive in Algeria:
By land from Tunisia, the land border with Morocco, Libya, Mali, and Mauritania are all completely closed. While the land border with Morocco is closed, so are the direct flights between Algiers and Marrakesh.
You can also arrive via ferry from Spain, France or Italy. But boats are more expensive than flying.
And the most common and easiest way to access Algeria is by flying.

I arrived with AirFrance through Paris and left with Qatar Airways through Qatar.
But also Iberia offers good connections here through Madrid and British Airways to London Gatwick.

There are 18 International airports around Algeria!
A brand new airport terminal opened in Algiers in April 2019, making arriving a lot smoother and faster. The old international terminal is now transformed into a domestic terminal.
When arriving in Algeria, get ready for a long wait; all baggage will get scanned upon arrival, as will your check-in baggage.
When leaving the country, you have to declare ALL the money you take out of the country, also the USD/EURO, etc., that you brought with you into the country. This process was a real pain in the ass.
Are you planning to visit Morocco as part of your northern Africa trip? Check out this 3 Weeks Morocco Trip Itinerary.
How To Travel Around Algeria
Since Algeria is the largest country in Africa, flying is the apparent choice if traveling from one corner of the country to another. Flying domestically is very cheap.
I had three domestic flights during my trip here; they all left on time without any problems.
Bus: The road quality in Algeria is excellent in most parts of the country. The highways are just as good as the main highways around central Europe; there are regular buses to every destination around the huge country.
You can also get around the country via train. There are three main train routes in Algeria, all being in the northern part of the country, Algiers to Oran. Algiers to Constantine and Algiers to Annaba.
There's also a train from Oran to Bechar in the south. It leaves at 11 pm and reaches at 8 am. The price for a bed is around 1500 dinars per person (about 10 dollars).
So if you're planning to travel anywhere else other than the far northern part of the country, then train travel will not be an option.
Algerian Money
The local currency in Algeria is the Algerian dinar (DZD).
There are 5, 10, 20, 50, 100, and 200 dinar coins. Banknotes 100, 200, 500, 1000, and 2000.
ATMs are widely available in big cities, Visa and MasterCard are accepted in all! I didn't get charged any fees for withdrawal.
1 USD = around 119 DZD.
1 Euro = around 137 DZD.
If changing money on the black market, you will be offered a much better rate, so Algeria will be much cheaper if you exchange hard currency rather than withdrawing cash from ATMs.
During my visit, 1USD was worth 200DZD, and 1 Euro was worth 220 DZD on the black market. So you would get a staggering 60% more for your money when you change it at the black market.
Euro is the best currency to bring to Algeria to exchange.
When changing money this way, your trip will become a very cheap country compared to western standards. But if doing it the official way, the country is not very cheap.
Internet Access
Sim Cards with a 4G connection is easily available at the airport. The Kiosk is open 24/7 but you can expect a queue of locals returning home also buying a sim card.

I bought a local Ooredoo Sim Card for 3000 DZD, with 7 GB internet usage. I had at least a 3G connection anywhere I traveled.
All hotels and restaurants offered free wifi, but it was normally very slow, so I ended up using my Sim Card most of the time.
Algeria Language
Arabic and Berber are the two official languages in the country. But French is also spoken by literally everyone. I don't speak a single word of the three mentioned languages.
As I always do, I stick to English, and even in Algeria, it was easy to get around with just English.
I wouldn't lie if I said that I was highly impressed by the amount of English-speaking people I came across during my ten days in the country.
Even shopkeepers in small local stores spoke basic English.
Menus in restaurants were only in Arabic and French; I never saw a menu written in English. So it's recommended to learn some basic French, so you know what you're ordering.
Is Algeria Safe for Tourists?
Algeria's safety is one of the biggest concerns for travelers. And the main reason why a lot of travelers don't visit Algeria, at least if you are getting your information from various travel forums and Facebook travel groups online.
So, is Algeria a safe country? Algeria is today considered very safe, except along the borders with the neighboring countries.
The official travel advice from the UK government is: The Foreign and Commonwealth Office (FCO) advise against all travel to areas within:
30km of the borders with Libya, Mauritania, Mali, and Niger
30km of the border with Tunisia in the provinces of Illizi and Ouargla and in the Chaambi mountains area.
Except for those areas, Algeria is considered to be a safe country. You will see a lot of police when traveling around the country, none of them ever bothered me, and they were always smiling and friendly.
I felt 100% secure absolutely everywhere during my visit to Algeria.
If you are concerned about safety in Algeria, read this post from a single female traveler that explored Algeria.
Also, every local I met was super friendly and welcoming. But of course, there are always a few bad people in every country around the world.
Algerian Food
Algerian food is a mixture of a lot of cultures. Since Algeria was a French colony for 132 years, there is no surprise that there's a big French influence when it comes to food here.

But you will also find food from Berber, Italian food, Spanish, Turkish, and Arab cuisines.
Couscous and BBQ chicken/lamb are available everywhere. When visiting the southern part of Algeria, the most common meat I had was camel meat.
I found the local Algerian cuisines to be delicious and surprisingly good. I don't think I had a single bad meal during my ten days in the country.
Drinks & Alcohol in Algeria
Algeria was once a big producer of wine when part of France, but these days most of the wine farms have been transferred into olive oil farms instead.
Algeria is a Muslim country, though a pretty liberal one in some parts of the country, and other parts being conservative, so you can't find alcohol everywhere.

But that doesn't mean you won't be able to find drinks and alcohol in Algeria.

You will have to know where to find it, though. Often high-end restaurants and hotels sell it.
You may also be able to find a drink from a few unmarked bars around the big cities. I did find a few bars, but none of them were obvious.

They are all behind big black metal doors where you had to ring a doorbell for a guard to open the door.
Just be aware that local bars have the highest density of smokers I have ever experienced ever.
I managed to find four locally produced beers during my visit, plus one made in Cameroon, and as always, there were international brands like Becks, Heineken, and Kronenbourg 1664 also for sale. I also tried four of the locally produced wines.
If you want to bring some locally produced wine home, there's a significant section for sale at the duty-free in Algiers international airport.
Tap water is considered not safe for drinking, although its quality is better than before. Once boiled, there is no problem with drinking it. Bottled water is available in every shop and restaurant for a very low price. The local soft drink Hamoud is well worth a try.
Electricity in Algeria
Algeria uses the European standard 220V power plugs. So be sure to bring adapters if your country uses something different.
Things You Should Pack for Your Time in Algeria
The country is very modern, at least in the big cities like Algiers, so it´s no problem finding accessories if you forget something at home. But there was one thing I couldn't find, and that was sunscreen.

When having a staggering +48C/118F during my visit, it was essential to have proper sunscreen.
It´s also important to bring a proper hat and sunglasses to protect you from the sun. The Algerian sun is strong, and there's not much shade to hide in during the day.
Is Algeria Worth Visiting?
I really liked the country; I would put Algeria into my top 10 countries I have visited in the world. The people were super friendly, the food was good, it was easy to get around, and the country had endless sites to discover, especially when visiting Algiers.
My only mistake was that I only had ten days here and that I visited the country in July when it's way too warm to visit big parts of the country.
I'm already planning to return for a second trip here since there's so much more to explore. Hopefully, the visa process will be easier next time.