If you are traveling to India for the first time, a trip or tour to the country's "Golden Triangle" is a great place to begin your exploration.

With impressive mosques, peaceful temples, and bustling bazaars, it's an area where you can really immerse yourself in the authentic sights and sounds of India.
But What Exactly is the Golden Triangle?
India's Golden Triangle is the area which sits between the cities of Jaipur, New Delhi, and Agra.

When read on a map, the three cities form an almost perfect triangle, and if you're wondering why they call it "golden," it's because of the magnitude of historical sights you can visit along the route!
From the picture-perfect Taj Mahal in Agra to the "Pink City" of Jaipur and the towering Qutb Minar in Delhi, choosing the right place to begin your experience is the first exciting part of your epic Indian adventure!
Getting Around India's Golden Triangle
If you're traveling independently, you need to know how to get around the Golden Triangle.
The good news is it is relatively easy to travel from one city in the Golden Triangle to another via public transport.

A bus is the cheapest form of transport if you're on a tight budget. It may be hectic and far from luxurious, but it's an experience to behold, even if you do it just the once.

There are frequent daily buses to and from each city destination, and tickets can be booked in advance online.
Traveling the Golden Triangle in India by train is the preferred method for many adventurers.

You can book your tickets online in advance or purchase them at the railway station and simply jump on board to admire India's beautiful, lush countryside as you roll with ease from city to city.
Another option, especially if you have limited time to explore, is to hire a government-approved taxi to transport you from one city to another.

India's taxi drivers are a book of information and knowledge and will be happy to share stories and their country's history during your journey.
You can also fly from Delhi to Jaipur in under an hour, and there are daily flights from Delhi to Agra if you are on a whistle-stop tour.

Each routes can cost less than 100 euros one way if you book in advance.
When you've arrived in the cities, a fun way to reach your attraction of choice is by tuk-tuk.

These feisty yet nimble vehicles are a law unto themselves, weaving their way through traffic jams with expert precision.

They can be scary for the first-timer, and health and safety don't feature too highly. However, they are cheap, cheerful and will get you to your destination.
Top tip: When traveling by tuk-tuk or taxi, always agree on a price beforehand to avoid any unpleasant surprises.
Booking a Golden Triangle Tour
If you're a first-timer to India, taking an organized tour is a great idea.

Firstly, local guides can share insights regarding the local customs of each city and avoid you getting ripped off when purchasing souvenirs!

Secondly, you will travel via private transport, therefore, no waiting around, plus, you have the opportunity to meet other like-minded travelers, which is ideal if you're traveling solo in India.
Where to Begin Your Golden Triangle Tour
India's capital city and largest city, New Delhi, is a fine place to begin your tour of the Golden.

Triangle. The city is the furthest north on the itinerary and easily served by international and national flights, therefore, easy to reach.
Delhi, India's capital, is a full-on experience for the senses.

Around every street corner, you'll discover ancient forts, palaces, minarets, and, when you're not enveloping yourself in the centuries of history on offer, lively street markets and colourful bazaars to visit.
Top Things To See in Delhi
If you're beginning your adventure in New Delhi, there are a few highlights in the city you should definitely see.
New Delhi's top attraction and revered UNESCO World Heritage Site, Qutab Minar, stands at 240 feet tall.

It was built from red sandstone and marble by Qutb-ud-din-Aibak in 1192, and the five stories tower above the city like a beacon of architectural wonderment.
There are also the museums of the Mughal Red Fort to visit and India Gate – dedicated to soldiers who perished in the Afghan War.

The latter is an iconic, historic landmark bearing the names of 13,500 courageous people. If you're lucky enough to visit at dusk, the stone gate illuminates and fountains dance, bringing endless snapshot opportunities for keen photographers.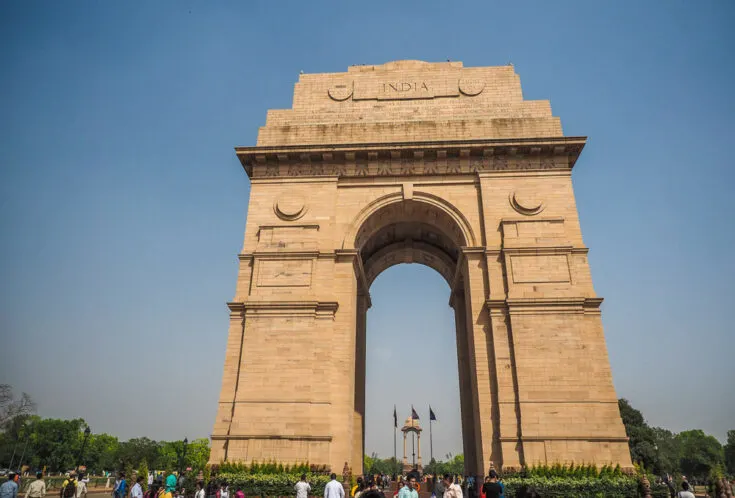 If you want to escape the city's manic hustle and bustle, pop over to East Delhi for a few hours.

Akshardham Temple is flanked by lush, emerald gardens, creating a spectacular backdrop against the red sandstone structure.

One of the largest Hindu temples in the world, it's worth spending time admiring the architecture and craftsmanship which went into the historical masterpiece.
Finally, no visit to Delhi would be complete without bartering for goods in Chandni Chowk.

One of India's oldest and liveliest markets, it is comprised of small narrow lanes offering almost every product under the sun. If you can, visit early, stop to snack, and then shop until you drop!
Top Things To See in Agra
If the city of Agra is next on your list, it's located just over 230 kilometres southeast of New Delhi.

Agra can be reached by train in 2-2.5 hours, and a little longer by bus.

One of India's most popular tourist destinations, the city boasts many splendid structures from the Mughal era, one of which is the world-famous Taj Mahal.
The white marble mausoleum is a unique combination of Mughal and Persian architecture built by Emperor Shah Jahan for his cherished wife, Mumtaz Mahal.

It caters to 8 million tourists each year, mostly during daylight hours, but if you can time your trip and arrive at full moon, you can gain a different perspective of one of the world's Seven Wonders.
Opposite the Taj Mahal lies Mehtab Bagh, a pretty garden complex is offering the ultimate viewing point.

It's a perfect location for photographers, bringing a wealth of colour into the frame to complement the shimmering white marble of the mausoleum.
Suppose you're seeking somewhere away from the crowds.

Take a day trip to Korai Village, home to the Kalandar tribe of people. This trip will give you an insight into rural life in India.

You will also learn what the tribe eat and how they cook their food, see where they live, and you'll also have an opportunity to purchase a variety of unique arts and crafts hand-made in the village.
Top Things To See in Jaipur
The Ajmer Intercity Special train can transport you from Agra Fort to Jaipur in under 4 hours.

Jaipur, or the "Pink City" as it's fondly known, is so-called because of the pink-hued buildings dotted throughout the centre.
Jaipur is well-known for its traditional designs and craftwork.

Therefore, if you're leaving it until last on your Golden Triangle itinerary, ensure you leave plenty of room in your backpack or suitcase for souvenirs, artwork, and textiles to take home with you!
One unmissable highlight of Jaipur is the Amber Fort which also houses the Amber Palace.

With several buildings, micro-museums, and gardens by the lake, it has been the setting for many a Bollywood movie.
City Palace overlooks Jaipur's main thoroughfare, a crowning jewel in varying shades of pink and ivory, and opposite lies Hawa Mahal, an equally impressive structure decorated with ornate balconies and intricate carvings.

Constructed from pink sandstone, Hawa Mahal sits aside a bustling bazaar selling everything from trinkets and hand-crafted jewelry to woven carpets.
However, the main highlight of Jaipur for many is the Jal Mahal or Water Palace as it's otherwise known.

This breath-taking structure seemingly floats atop Man Sagar Lake. Spectacular by day, even more so by night, the former palace, now a luxury hotel, reflects its myriad colours on the lake like a glistening kaleidoscope.
Avoiding the Dreaded Delhi Belly During Your Golden Triangle Trip!
Many westerners have seen their trip to India take an unfortunate turn when they discover they have "Delhi Belly." The "upset stomach" bug happens to many tourists who visit India.

However, there are a few ways to avoid it.
Firstly, avoid tap water at all costs, use hand sanitizer and wet wipes and always keep hands clean.

Avoid any street food, which isn't fully cooked, especially things like unpeeled fruit, and remember to begin your Indian culinary adventure by going easy on the spices for your first few days.
When in restaurants, pour beverages directly from the bottle and reject ice cubes in drinks. Also, use bottled water for brushing teeth to be on the safe side.
If, after taking all of these precautions, you still find that you've contracted the dreaded Delhi Belly, it's unfortunate.
Always make sure you have brought relevant medicines from home to eradicate it quickly, so it doesn't hinder the rest of your trip.
Venturing Outside India's Golden Triangle
When you've exhausted the attractions of the three cities and are desperately seeking a sense of peace and tranquillity to gather your thoughts and reflect on your trip so far, where do you go?
From Delhi
Why not jump on the scenic, narrow-gauge railway and travel north to the Himalayan hill station of Shimla.

It's a long journey, over half a day by train and 8 hours by car but spend a few days here and you'll see a completely different perspective of India.
Shimla hill station was once the summer capital of the British Raj and still retains some of the splendour and grandeur of the day, plus some pretty incredible vistas of the Himalayan peaks!

Visit temples, churches, enjoy a game of cricket, take a picnic in the pine forest or visit the Himalayan Bird Park to see the native species.

Another popular trip is to the Golden Temple in Amritsar, while it´s possible to visit Amritsar on a day trip from New Delhi, it is recommended to stay the night there; it´s during sunset and sunrise the place feels really special.
From Agra
If you have additional time or plan to prolong a stay in Agra, venture to Fatehpur Sikri, an hour away, to see the peaceful Moghul palace complex built in the 16th century by Emperor Akbar.
The name Fatehpur Sikri translates to "City of Victory," and the area is abundant with monuments, temples, and mosques.

It's relatively deserted for the most part and incredibly atmospheric, offering a diverse side-trip from the hectic vibe and tourist hotspots of Agra.

The most popular side trip from both Agra and Jaipur is to the national park of Ranthambore National Park, which is one of the best places to see wild Tigers in India while not directly on the Golden Triangle route, but still a well worth detour to do.
From Jaipur
For those who prefer to be one with nature, Sariska Wildlife Sanctuary is a promising option.

Set inside the national park around 2.5 hours northeast of Jaipur, the reserve covers 800 square km with the Northern Aravali Hills as its backdrop.
The sanctuary is home to tigers, leopards, caracals, hyenas, Sambar deer, Pangolin, and over 210 bird species, so don't forget your camera!