The Yellow Mountain is one of China's many natural wonders, nestled in the Anhui Province in the eastern part of China.

It is also called Huangshan Mountain, Mt. Huangshan, or Mount Huang. This picturesque location attracts countless travelers each year.
You'll find spectacular scenery, jagged granite peaks, hot springs, ancient pine trees, and winter snow.

From experiencing views of the clouds from above to breathtaking sunsets, it's easy to see why it is considered one of the most beautiful mountains of China.
While the area is filled to the brim with natural beauty, there are a few notable features that you wouldn't want to miss.

To help you get the most out of your trip, we've compiled the ultimate travel guide to Huangshan Mountain below.
Tip: If you're interested in visiting another hidden gem in the country, check out this travel guide on Yuanyang Rice Terraces.
History of Huangshan Mountain
The Chinese word "Huangshan" translates to Yellow Mountain(s) in English. This scenic area was renamed after the Yellow Emperor, Xuanyuan Huangdi, in 747 AD. It is believed that the mountain was the place of discovery of the sought-after elixir of immortality.
Huangshan Mountain has played an important part in the Chinese history of art and literature since the Tang Dynasty in the 8th century. In 1990, the mountain was listed as a UNESCO World Heritage Site.
Today, it is a top tourist attraction. And many poets, landscape artists, and hermits are drawn to the captivating mountainous landscapes.
The Yellow Mountains, China – What to Expect
The Yellow Mountain is a world-famous location that features stunning scenery and religious buildings. Around 64 temples were built in this mountainous area during the Yuan Dynasty from 1271 to 1368.
You'll also find natural stone pillars, caves, cascading waterfalls, a sea of clouds, and many towering peaks. Here are some of the spectacular wonders that you'll come across when touring the mountain.
Huangshan Pines
The Huangshan pine, Pinus hwangshanensis, is renowned for its peculiar shape formed by the climate and unique landform of Mount Huangshan. The pines feature thick leaves, flat crowns, and tough trunks.
Many of these trees are tilted on rocks as the roots are set deep in the granite. There are thousands of pines on the mountain, but the most famous one is the Guest-Greeting Pine. This iconic landmark is more than 800 years old.
It stands at around 10 meters (33 feet) at Jade Screen Peak. As its name suggests, the pine resembles a person with stretched-out arms welcoming a guest.

This warm greeting gesture is created by two large lateral branches located halfway up the trunk that grow forward.
Other popular pines on the mountain include:
Farewell Pine
Black Tiger Pine
Phoenix Pine
Accompany Pine
Couple Pine
Creeping Pine
Leading Pine
Putuan Pine
Peculiarly-Shaped Granite Peaks
The Yellow Mountain is home to plenty of spectacular rocky peaks. You'll find around 36 small peaks and 36 major peaks. Some stand taller than 1,000 meters (3,281 feet) and provide splendid spots to catch the sunrise or sunset.
The most well-known and tallest peaks are the Lotus Flower Peak, Celestial Capital Peak, and Bright Peak. The Lotus Flower Peak is the highest point, reaching up to 1,864 meters (6115 feet).
Its shape resembles a stunning blossoming lotus. Climbing the Lotus Peak is an exhilarating experience where you can enjoy magnificent views of Tianmu Mountain in the east and Mount Lu in the west.
If you're looking for a picturesque panoramic view of Huangshan Mountain, the Bright Summit is an ideal spot. At 1,860 meters (6102 feet), it is the second-highest peak positioned in a central location.
Sea of Clouds
The sea of clouds certainly adds to the exquisite atmosphere of the Huangshan Mountains.

This spectacular cloud covering makes the peaks look as if they were islands in the sky. It provides out-of-this-world sunrise and sunset views.
The mountain can be divided into five sea areas to view this breathtaking sight. These include the South Sea, North Sea, West Sea, East Sea, and the Heavenly Sea.

The best times to view the dreamy vistas are from November to May, particularly after the rain and snow.
Here are some of the best spots to view the sea of clouds:
North Sea – Refreshing Terrace
South Sea – Jade Screen Pavilion
West Sea – Cloud Dispelling Pavilion
East Sea – White Goose Ridge
Heavenly Sea – Bright Summit
Hot Springs
After a fun day of exploring, the hot springs offer the perfect setting for a relaxing experience. It was discovered thousands of years ago and is said to have legendary healing and therapeutic properties.
The legend states that the Yellow Emperor appeared younger as he bathed in the hot spring that smoothed his wrinkles.

As such, it is also known as the Springs of Youth. It was also called Vermilion Springs and Tang Springs in ancient times.
The healing effects of the spring water can help with metabolic disorders, cardiovascular disease, and skin disorders.

And it is the perfect way to feel rejuvenated after tackling a hiking trail. You can find the springs situated at the foot of the Purple Rock Peak, just a short taxi ride away from the main south gate.
Winter Snow & Buddha's Light
During winter in China, mountains transform into a snowy paradise. With pure snowflakes in the air and snow-covered peaks, Mount Huangshan is a dreamy destination.
You can experience this spectacular sight from November to March. If you're lucky, you might also witness the magnificent Buddha's Light.
The Buddha's Light is an optical phenomenon that resembles a halo surrounding the shadow of the observer's head.

It requires the person to be between the sun and a cloud. As such, Huangshan's sea of clouds offers the ideal environment to experience it, especially after a snowfall.
How To Get to the Huangshan Mountain Range, China
Getting to this scenic area requires a flight, bus, or train ride to Huangshan City first. There are several high-speed trains from Hangzhou that offer a comfortable journey.

These train rides take around 1.5 to 2 hours and can be accessed from Shanghai city as well.
You can also find buses in Hangzhou West Bus Terminal that offer a 3-hour trip to Huangshan City or a 4-hour direct journey to Yellow Mountain.

If you're looking to travel to the city by air, the nearest airport is Huangshan Tunxi International Airport.
Located in Tunxi District, the airport primarily serves travelers seeking to visit the famous Chinese mountain.

Whether you choose to travel by road or air, the end destination will certainly leave you in awe.
At the base of Mt. Huangshan, you'll find 60,000 granite steps leading to the top and to several other points of interest along the way. Trust me. Your legs will be dead once you are done with your trip to the Yellow Mountain.

If you don't want to climb summits just yet, you can hop on a minibus to one of the cable car stations.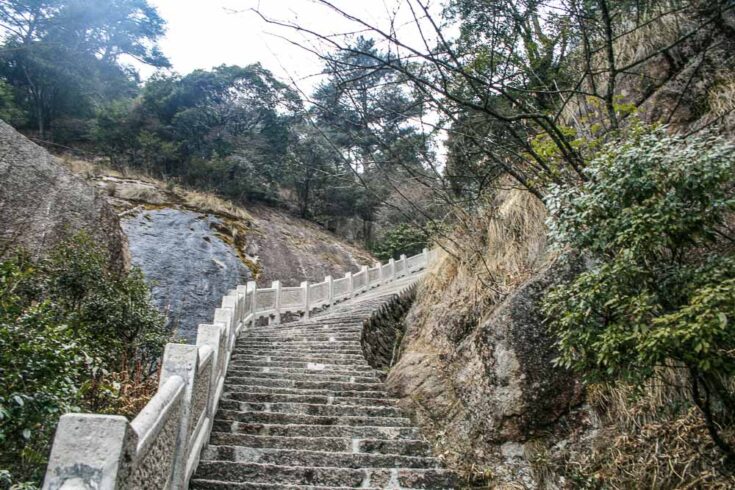 Best Time to Visit
The best time to visit Huangshan in China is from April to November. Touring during its peak season offers comfortable weather conditions and awe-inspiring views.
But if you're in the mood for a vacation during the colder seasons, December to April is a great time to view the sea of clouds. Additionally, you may receive off-season perks such as fewer crowds and lower prices.
But be sure to stay away from the "Golden Week" in October, then The Yellow Mountains becomes extremely crowded. I've made that mistake, and I won´t recommend it.
Entrance Tickets to Huangshan Mountain Park
The entrance ticket to Mount Huangshan differs in the peak and off-peak seasons. During the peak season, the ticket price is $37 per person, while the off-season cost is $29.

Here are the prices you can expect at the cable car stations:
Peak season prices:
Yungu Cable Car – $15 per person
Taiping Cable Car – $15 per person
Yuping Cable Car – $17 per person
Xihai Cable Car – $19 per person
Off-peak season prices:
Yungu Cable Car – $13 per person
Taiping Cable Car – $13 per person
Yuping Cable Car – $15 per person
Xihai Cable Car – $16 per person
Note: The entrance and cableway tickets are sold separately.
Where to Stay in and Around Huangshan Mountains, China
There is so much to enjoy at this charming tourist attraction that you'll certainly want to stay a few days. We recommend staying for at least two days to take it all in.
Upon arrival, you can choose accommodation in the city and move to a hotel in Huangshan Scenic Area for a few days. Whether you choose a mountain or a city stay, both promise an exhilarating experience.

You can find our top picks for accommodation in and around Huangshan mountain, China, below.
Hotels on Huangshan, China
The accommodation in Yellow Mountain Scenic Area provides a peaceful setting surrounded by nature with picturesque landscape views. Here are our favorite hotels for a relaxing vacation in the mountainous area.
Xihai Hotel
Nestled in Huangshan Scenic Area, the Xihai Hotel offers a comfortable 4-star stay. Here you can enjoy awe-inspiring views and excellent service. You'll find a restaurant on the premises where you can indulge in a mouth-watering buffet breakfast.
The hotel is just 0.5 km (0.3 miles) from Yuping Cable Car and 3.5 km (2.2 miles) from Yellow Mountain Hot Springs. Other nearby points of interest include Buxian Bridge (9 km/6 miles), Bright Summit Peak (7 km/4 miles), and Guest-Greeting Pine (9 km/6 miles).
Banyan Tree Huangshan
The Banyan Tree Hotel Huangshan offers opulent accommodation at the foot of the mesmerizing Mt. Huangshan. At this 5-star hotel, you'll find luxury suites with stunning Anhui-style architecture.
The suites feature air-conditioning, a minibar, flat-screen television, and free Wi-Fi. There is also a sumptuous spa and restaurant on the premises.
The hotel is ideally located for exploring and offers bicycle and car rental services. It is only a 10-minute drive to the ancient villages of Hongcun and Xidi.
0517 Boutique Hotel
If you're seeking Bed and Breakfast accommodation in a tranquil environment, the 0517 Boutique Hotel would be fitting. It features amenities such as air-conditioning, free Wi-Fi, a shared lounge, and spectacular terrace views.
There is also an on-site restaurant and bar that offers a delicious American or Asian breakfast. This inviting hotel is situated in Huangshan Scenic Area near Bright Summit Peak (1.3 km/0.8 miles) and Heavenly Capital Peak (2.3 km/1.4 miles). For a rejuvenating experience, you'll find Nine Dragons Waterfall and Yellow Mountain Hot Springs less than 5 km (3 miles) away.
Hotels in the City
Staying in Huangshan City offers easy access to the town center and top attractions such as Huizhou Villages, Xidi Heritage Site, and Jinyi Cinema. Here is a list of a few of our favorite accommodations in the city:
Tip: If you choose to stay in one of these hotels, be sure to check out the famous ink production at a historic factory and tour the Tunxi ancient streets.
What to Pack When Visiting the Yellow Mountain, China
When exploring the mountain, we recommend packing a backpack with a couple of essentials. Here is a list of items you'll need to bring and wear: theater can turn very fast. I had +20 during the day but then snow during the night.
Comfortable walking shoes
A few bottles of water and high-calorie snacks
Weather-appropriate clothing such as waterproof and warm layers
A walking stick, sunglasses, sunscreen, and a hat
A change of clothing, underwear, and socks
A hiking trail map
Waterproof bags
Tip: For more packing tips, check out this comprehensive guide on what to pack for backpacking trips.
Ready for a Trip to the Captivating Chinese Mountains?
When visiting China, Yellow Mountains should certainly be an item on your travel bucket list. Whether you're looking to tackle a thrilling hiking trail or relax in a hot spring, this scenic area will not disappoint.
With an abundance of activity and awe-inspiring views, a trip to Huangshan Mountains offers an exhilarating experience for all.

Now that you know what's on offer, when will you head to the picturesque mountains? Grab your hiking boots and book those tickets – a tranquil adventure awaits you.