If you've never been to Dandong, China, before, you're in for a real treat. Dandong is quiet but has a special something to it that some tourists enjoy.
Being China's only access point to North Korea, there's an intriguing blend of Chinese and North Korean culture in this small border town.

In fact, many of the people working in restaurants and hotels in Dandong speak more Korean than they do Mandarin or English!
If you want to practice your Korean, this may be the place to do it.
Dandong has also seen an influx of Koreans visiting the town in the last few years, and the tourism in the town is starting to pick up dramatically.

Anyone looking for an original place to visit in China should consider Dandong for their next Chinese vacation.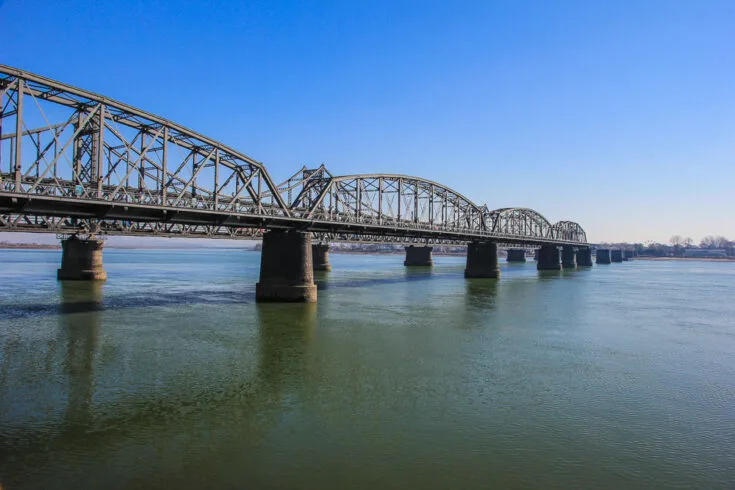 Dandong (once known as Andong) isn't a famous tourist city, but that's part of its appeal, both to Chinese nationals and foreign tourists.

Dandong is small with unique cultural energy, and the crowds aren't as large as they are in more popular spots in China, such as Shanghai.
Your itinerary in Dandong may not be as jam-packed as your Shanghai travel guide, but the border town has its own special draw cards that some tourists love.

Dandong also has a pretty waterfront you can visit, and there are a few hidden gems to check out while you're on vacation there.
Dandong's Best Activities & Attractions
Below are some recommendations on activities to keep you busy in Dandong, as well as landmarks and attractions to visit while you're on vacation in the city.

Hopefully, you get to enjoy all of them before your Dandong expedition is over.
Sino-Korean Friendship Bridge
If you head to the Dandong waterfront, you can look out over the Yalu River (also known as the Amrok River), the river that separates North Korea from China.
You can even see the city of Sinuiju, North Korea, on the other side of the water.

But that's not the reason most people go to the Dandong waterfront; they go to see the Sin-Korean Friendship Bridge, the bridge from China to North Korea.
Built over the 1930s and '40s when Japan was occupying Korea, this majestic Dandong bridge is one of the few ways you can get in or out of North Korea.

Interestingly, you see the remains of an older bridge (the "Broken Bridge") right alongside it, spanning about half of the Yalu River.

Where else in the world can you see two bridges running parallel to one another?
Both bridges were bombed during the Korean war and repaired multiple times afterward. But it was the Friendship Bridge that stood the test of time.
Today, cargo trucks and vehicles cross this bridge every day to get between China and North Korea.
There's also a railroad that crosses the bridge, which is the most common way for tourists to travel to North Korea.

You can get an excellent view of the Sino-Korean Friendship Bridge from the Dandong waterfront area on Yalu River. Head out there just before sunset time, and you'll be greeted by a stunning view of the sun dipping behind the horizon.

There are also some tour companies operating along the waterfront which offer boat charters along the river accompanied by a Chinese tour guide.
The pair of bridges over the water makes for an Insta-worthy travel photo, especially during golden hour. Follow the Dandong waterfront trail at dusk, and you won't be disappointed.

There are also places to buy food and souvenirs along the waterfront, so you can do a spot of shopping while you're there.
Yalu River Broken Bridge
The broken bridge to North Korea was originally called the Qingcheng Bridge; the bridge was built by the Empire of Japan between 1909 – 1911 and was the first bridge between China and North Korea.
The now broken bridge was originally 944,2m/3.098 feet with twelve truss spans supported by stone foundations in the riverbed, with one of the arches was able to rotate so larger ships on the Yalu river could pass.
The Qingcheng Bridge was bombed multiple times by the USA airforce during the Korean war to stop the movement of Chinese troops and supplies into North Korea.

In November 1950, the US Airforce dispatched more than 100 aircraft to bomb the bridge, which continued into December. But by then, the Yalu was frozen, and the Chinese could easily travel across the frozen river instead.
In February 1951, the USA once again bombed the bridge and destroyed the whole bridge on the Korean side, and only left the for spans on the Chinese side still standing.

After the war, the Chinese proposed to the North Koreans to repair the bridge, but the North Koreans wanted the bridge to be left as it was as a reminder of what the Americans did during the war.


These days the broken bridge is considered a Major National Historical and Cultural site in the Liaoning province in the northeastern part of China. The end of the Broken Bridge has become a viewing platform for visitors to get a closer look at North Korea.

The bridge is open from 8.30 am to 16.30.
Jinjiangshan Park
Located in the Zhenxing District in Dandong, Jinjiangshan Park is a beautiful spot to take a walk and reconnect with nature.

Many locals gather at this park in the early mornings to go for morning runs. You can even spot groups doing Tai Chi on the lush lawns. If you want to observe how some Dandong townspeople spend their mornings, this is the perfect place to do it.
The park is bursting with bright colors in spring, boasting cherry blossom and ginkgo trees in bloom.

There's also a small play area where your kids can run around and have fun while you relax on the grass.

Overall, you couldn't ask for a better location for a family outing or even a solo run on a Saturday afternoon.
As you get deeper into Jinjiangshan Park, you'll come across a charming pond with an old abandoned rowboat floating on it. And behind the pond, take in the intriguing red paifang or pagoda.

A paifang is a traditional Chinese arch with beautiful detailing, one that's instantly recognizable to anyone who's been to China before.
Mao Zedong Statue
Once there were more than 2000 Mao Zedong statues on city squares all over China, all of them put up between 1967 and 1969.

But these days, only about 180 are believed to be still standing around China, with some of the most famous ones being located in Chengdu, Lijiang, Kashgar, and one in Dandong, which is located just outside the Railway station.
Wulong Mountain & Lingchain Buddhist Temple
Wulong Mountain (also known as Five Dragons Mountain) is located about a 20-minute drive outside of the center of Dandong. Boasting a peak over 2000 feet above sea level, this popular Dandong attraction offers a breathtaking view of the northeast China countryside.

This would be a fantastic place for a peaceful getaway from the busier town areas.
You can take a train from the Dandong Train Station and get off near Lao Gu Gou. From there, simply ask a local taxi to take you to the Wulong Mountain entrance at the base of the hill.

Most of the local taxi drivers will not know how to get there, so you don't need to worry about getting lost.
Most tourists will hire a car or taxi to take them from the entrance of the mountain to its top, where you'll be greeted by an otherworldly Lingchang Buddhist Temple. Alternatively, you can walk up to the temple and enjoy the fresh countryside air.
The pathway meanders through a forested area on the mountainside, which is filled with maple trees and other greenery.

Be sure to take your camera along, as this is one of the prettiest pathways in Dandong. The walk up the hill is just over a mile long, but keep in mind that it's incredibly steep and can be taxing if you're not very fit.
Once you reach Lingchang Temple, make sure to be respectful of the monks roaming the grounds, as this is a sacred place for prayer.

It also happens to be the biggest Buddhist temple in northeast China. You'll see some traditional Chinese architecture here that will knock your socks off. The temple itself has some incredible detailing.
There are plenty of restaurants and cafes on Wulong Mountain where you can stop for a bite.

Check out the souvenir stores in the temple where tourists can buy keepsakes and postcards for their families back home.

Just remember to be mindful of your surroundings and keep your voice down while you explore the grounds.
Tiger Mountain Great Wall
The Great Wall of China needs no introduction, but did you know that it stretches into the town of Dandong?

This particular section of the Great Wall is called the Tiger Mountain (or the Hushan Great Wall) stretch.

You can find it in the small village of Hushan just outside of Dandong's town center.
The Tiger Mountain stretch is made up of the eastern end of the Great Wall, which has recently been restored. This stretch also overlooks the Yalu River, so you can expect intriguing views from atop this Chinese landmark.

Of course, you can also look out from Dandong into North Korea, which is visible in the distance behind the river banks.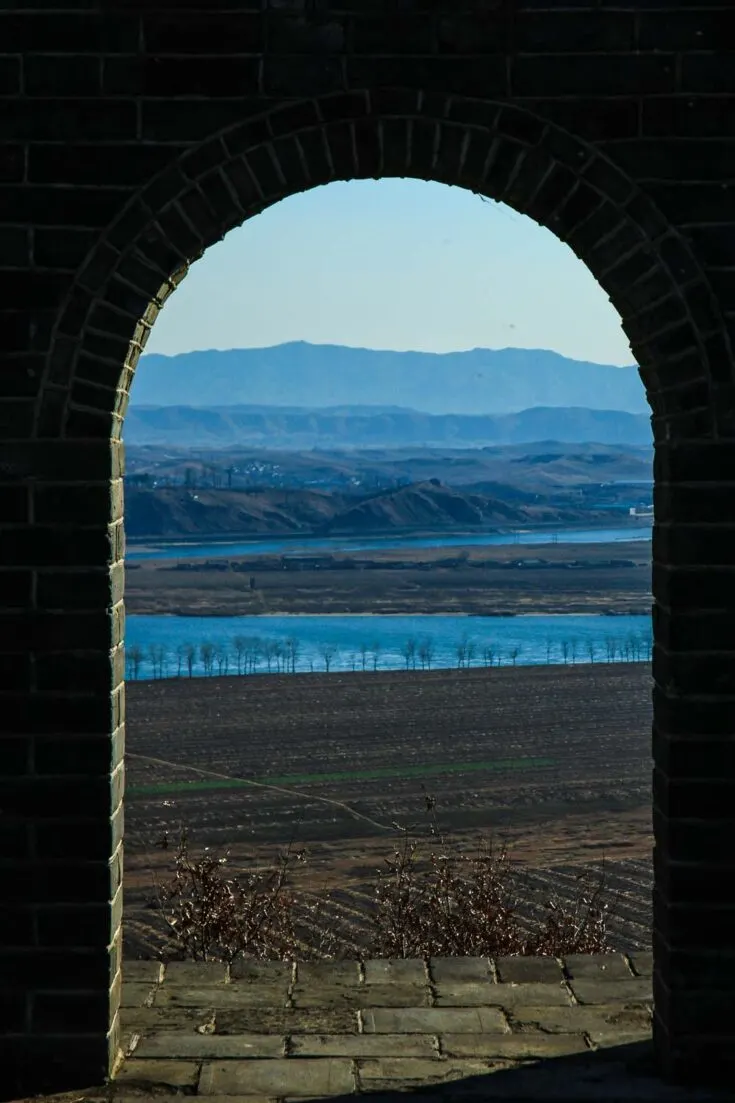 You can take the bus or the train from Dandong to get to the Tiger Mountain Great Wall. It is open daily from 8 am to 5 pm, and entrance costs ¥60 per person (only $0,54).
Once you have traversed the wall, you'll also see a small museum at the end of the pathway called The Great Wall History Museum, one of Dandong's best tourist attractions.
Here you can peruse weapons used by the Ming Dynasty soldiers during the Korean War, wartime artifacts, and some historical pieces that have been preserved carefully in the Museum.
There are also beautiful oil paintings and impressive sculptures for you to check out while you are there.

This is a great place to learn about the Hushan section of the wall and find out more about the Ming Dynasty's fascinating history.
Korean War Memorial Museum
The Korean war memorial museum, also known as the Memorial Hall of the War to Resist US Aggression and Aid Korea. The name of the Museum explains fairly well what the Museum is all about. While I'm not a museum fan, so is this one pretty impressive and definitely worth a visit.

The Museum has more than 700 photographs and over 1,000 artifacts, as well as models, charts, paintings, and sculptures that explain the progress of the war, everything explained in Chinese, English, and Korean.

Unfurtuently so are you not allowed to take pictures inside the Museum.
Phoenix Mountain National Park
Situated on Fenghuang Shan or Phoenix Mountain, this national park is a prized attraction in Dandong that boasts beautiful scenery.

There's a challenging hiking trail you can follow to the mountain bridge, which is highly recommended.
The bridge has a glass bottom and stretches from one mountain peak to the other. So you can see panoramic views of the surrounding hills as you make your way across.

And of course, if you look down, you can even see the green, rolling hills and mountainside beneath you.
If you're scared of heights, this may not be the best activity for you. However, it's a fun challenge to embark on and an amazing experience to tick off your China bucket list.
The hike to the bridge should take you around three hours to complete, and the trail is moderately difficult.

It's a steep journey up the mountain, so make sure you arrive prepared in some good climbing shoes and bring tons of water with you.
As you ascend the mountain, you'll see some active Buddhist temples nestled in crevices in the mountainside.

You'll also pass by some ruins of old pagodas and archways that will make fantastic photographs for your travel journal.
The mountain is also dotted with granite boulders, big and small, some of which you can scramble on top of to get a good angle for a photograph.
Once you get to the bridge, marvel at the panoramic views of the hills. You can cross to the other side and simply follow the rest of the trail.

It will circle back to your starting point, from which you can take a taxi back to Dandong town center.
Try Dandong Street Food
As mentioned, Dandong is right near the Yalu River, which means you can expect delicious seafood delicacies throughout restaurants in the town.

You can also grab some tasty seafood snacks from street vendors dotted around the town center. These street vendors pop up anywhere and everywhere in town, and most sell seafood skewers drenched in a delicious spicy sauce.
Many of the best vendors can be found along the waterfront, so be sure to follow the walking trail I recommended earlier, as this is where you'll get the freshest seafood and some catch of the day specials.
Strawberries are a popular street food offered around markets in China, and Dandong is no exception.

You will probably see strawberries being sold at several different markets around town, as well as on the waterfront trail. Grab a handful to take back to your Dandong hotel and add them to a picnic in Jinjiangshan Park.
Enjoy Your Dandong Visit
Even though Dandong is a small border town, it has a lot to offer tourists and locals alike.

Not only will you see a unique amalgamation of Chinese and North Korean influences, but there are also plenty of attractions for you to check out.
Whether you're hiking up Wulong Mountain, exploring Buddhist temples, or traversing the Pheonix Mountain suspension bridge, you're bound to have a good time in Dandong.

The Friendship Bridge is also a special treat everyone should see while they're in town, as it's one of the few ways to get a peek into North Korea from China.
Hopefully, you get to enjoy many of the attractions and activities in this post, and you have an unforgettable vacation in Dandong, China. Travel safe and have fun!