Nestled in the tropical rainforest of Sumatra is Gunung National Park. It covers over 3,000 square miles, straddling the border of the North Sumatra and Aceh provinces.

This area is home to a wide range of wildlife, Sumatran elephants, Sumatran tiger, Sumatran rhinoceros, Siamang, Mainland Serow, Sambar deer and leopard cat.

But what truly draws in most visitors is the chance of spotting a wild orangutan in its natural habitat.
You are more or less guaranteed to the Orangutan in Gunung National Park, but there's a very small chance that you will see the other wild animals during your visit.

Still, if you do a longer trek into the rain forest and sleep there overnight, there´s even a small chance you will see other animals during your visit here too.
The island of Sumatra is an incredible place, but it can be confusing for first-time travellers.

To ensure you do not experience any hiccups along the way, we have put together the ultimate travel guide to Gunung Leuser National Park – home to the Sumatran Orangutan.
Orangutan shares 96.4% of the same DNA as the human.
Why Visit Gunung Leuser National Park?
Gunung Leuser National Park is one of the last places where you can spot one of the most famous animals in the world – the endangered Sumatran Orangutan.

In addition to this, other primates you could see include gibbons, Thomas's leaf monkeys, and several more. The Sumatra forest is also home to a wide variety of bird, reptile, and mammal species.
In addition to the many animals found within Gunung Leuser National Park, some travellers visit the area simply for the unique jungle experience.

Throughout the park are many well-worn paths and trails, passing through one of the most beautiful rainforests in Indonesia.
Note: The tigers and rhinos which lives here in Gunung National Parkare are rather extremely elusive and are not likely to be spotted.

Despite this, be sure to pack in a polaroid camera as there are plenty of opportunities to snap a prized holiday pic.
In 1973, a Swiss organization set up an orangutan rehabilitation centre in Bukit Lawang and in 2004, the National Park got enlisted on the UNESCO World Heritage.

Bukit Lawang, which means door to the hills.
The Orangutan rehabilitation centre that was open here in Bukit Lawang back in 1973 was set up to help and rehabilitate Orangurants which was realised from captivity.

The rangers and workers in Bukit Lawang will teach the freed Orangutans all necessary skills to survive in the wild before it gets released back into its natural habitat in Gunung Leuser National park.


All orangutans released are still monitored by the rangers, and they still provide them with supplementary food at the feeding platform until they become fully self-reliant.
In the years after the arrival of the rehabilitation center, more and more tourists found their way to Bukit Lawang, and it became one of the most popular destinations in Sumatra.
If you want to get close up with orangutans in their natural habit, Gunung Leuser National Park in Sumatra, Indonesia, is the place to go.
Best Time to Visit Gunung Leuser Sumatra Indonesia
As Gunung Leuser National Park lies within a tropical rainforest, it receives plenty of rainfall and humidity throughout the year. During the wet season (October to March), rain comes down daily.
For those who do not mind getting wet and muddy, these months are the best time to visit.
During this time, the likelihood of spotting a wild orangutan is higher as it is when the trees bear the most fruit.
How to Get to Gunung Leuser National Park in Indonesia
The main gateway to Gunung Leuser National Park is the quaint village of Bukit Lawang in the North Sumatra province. Alternatively, you can access the park via the small village of Ketambe in the Aceh province.


The only way to get to Bukit Lawang is to go through the big city Medan, the largest city on Sumatra.

Medan, the fourth biggest city in Indonesia and often called the worst city in Asia by backpackers it´s a very warm and polluted city, which doesn't have many interesting sites to offer. However, it's still a convenient stopover place on your way around Sumatra, it got some big international shopping malls, so if you do need to buy or fix anything, this is the place to do it.

Either way, the nearest major airport to Bukit Lawang is located in the city of Medan.

Medan airport (Kualanamu International Airport) can easily be reached by air with direct flights from all the big cities in South East Asia, with Air Asia flying from Bangkok, Kuala Lumpur, and Singapore, and Jetstar flying from a few other Asian cities. Medan also have good flight connections to every major city in Indonesia.
From the airport in Medan, you can either take a taxi to Pinang Baris bus station about 1 km from the Main bus station.

From Pinang Baris, you can take a shared minivan to Bukit Lawang for around 20- 25 000IDR, remember. To bargain.
There's a lot of travel agency offering air-con cars to Bukit Lawang for around 200 000 – 300 000IDR.
Due to traffic and poor road conditions, reaching Bukit Lawang from Medan airport can take several hours to cover the 130km long distance between the two places.
There's ONE minivan a day from Bukit Lawang to Lake Toba a day if enough people.
There are also at least 4 minivans leaving Bukit Lawang every day for Medan.

If you have pre-booked accommodation in Bukit Lawang, they can also arrange your transportation from Medan for a reasonable price.
Where to Stay When Visiting Gunung Leuser National Park
Bukit Lawang is the most famous tourist village, and it has plenty of accommodation options. It is also the main gateway into Gunung Leuser, providing access to the east side of the national park.
Originally, this village was the home of the Bohorok Orangutan Rehabilitation Center between the late 70s and early 2000s.

While the center in Bukit Lawang no longer exists, dozens of orangutans have successfully been reintroduced into the rainforest nearby.

Bukit Lawang itself is one of the most relaxed places I have ever been; everything is so laid back and easy going there. When you are not out looking for Orangutan, your either tubing down the river or just relaxing in a hammock next to the river.
And for lunch, you will enjoy some fresh fruit straight from the jungle around the river.
There are several villages and towns which serve as gateways to Gunung Leuser National Park.
When arriving in Bukit Lawang, will you have to walk about 5min from where the minivan/car drops you off.
No cars are not allowed to drive all the way to the guesthouses in Bukit Lawang.

All transportation will stop at a parking place just outside the town.

Once you arrive, just walk through the tiny market; you can either continue walking north to the feeding station or across the high suspension bridge.
There's accommodation «everywhere» the closer you get to the feeding station you get, the more relaxed and peaceful it gets.

It´s shouldn't be any problem finding accommodation once you arrive, but I'll still recommend you to check out a few.
All guesthouses have a small restaurant and offer guided tours in the jungle.
Prices range from 25 000IDR for a basic room to 300 000IDR a night.

These include Bukit Lawang, Tangkahan, and Katambe. In these villages and towns, you will find a lovely selection of hotels, guesthouses, and eco-lodges.
A highlight of staying here is the spectacular scenery that surrounds many of the accommodations. Below are several unique vacation rentals to ensure you have a comfortable stay while visiting Gunung Leuser National Park:
EcoTravel Cottages: A charming accommodation nestled in the Bukit Lawang rainforest. All rooms have a terrace or balcony which overlooks the verdant mountains and river. Guests here can enjoy various activities, including hiking, cycling, and swimming.
Hotel Orangutan: A 3-star hotel in Bukit Lawang. It sits comfortably on the banks of the Bohrok River, on the doorstep of Gunung Leuser National Park. The hotel's deeply committed team aims to shine a light on the plight of the Sumatran Orangutan. The hotel offers various tour packages, namely the 5-day Jungle Explorer package, 7-day Bukit Lawang Experience, and 13-day Northern Sumatra Adventure.
Green Travelodge: This accommodation has many bungalows offering a unique treehouse-like feel. It is an ideal spot for those planning to trek through the surrounding forest and sight the orangutan at Gunung Leuser National Park.
Garden Inn: A beautiful eco-lodge in Bukit Lawang. This is an ideal place for watching wildlife as the bungalows are located in a flower garden beside a river, facing Gunung Leuser National Park. This accommodation offers a unique experience, completely surrounded by nature.
Green Forest Tangkahan: Facing the beachfront in Tangkahan is a wonderful accommodation featuring a number of private cottages. Here, you can expect to see an array of wildlife, including elephants.
If you don´t make it all the way to Bukit Lawang in one day, or you maybe have to spend one day in Medan before you travel to Bukit Lawang, but be aware that Medan is not the most interesting city to stay in.

Medan is a huge city, so it´s plenty of hotel options, from five-star ones and to low-budget backpacker options if you are on a tight budget.

The «best» accommodation in Medan for budget travellers is around the Grand Mosque, just across from the big shopping mall. None of these places can be booked online.
Hotel Residence, next to the grand mosque, a decent backpacking guesthouse from 70 000IDR
Hotel Zakia. Also, next to the mosque, not the cleanest but cheap. From 50 000IDR
Sultan Homestay. Next to Hotel Zakia. Cleanish and friendly staff. From 70 000IDR for single room got free Wifi and helpful staff. Probably the best option.
All the 3 guesthouses are less than 5min from each other, so it's a good idea to check out all of them.
Across the streets, there is a Mcdonalds and a decent supermarket in the basement of the mall.
There's also a travel agency across the street that offers a private air-con car to Bukit Lawang and other destinations in Sumatra.
Other good accommodation options in Medan is the ibis Styles Medan, Karma Hotel and the Hotel Radisson Medan.
What to Eat When Visiting the Sumatra Forests
While nature is the national park's biggest draw, food becomes something of an afterthought. As such, the options available are basic and fairly limited.
Fortunately, almost all of the hotels, lodges, and guesthouses have an on-site restaurant serving breakfast, lunch, and dinner. The majority of the cuisines offered are Indonesian, with several western favourites here and there.
While the food options are basic, they are often tasty and filling. After trekking for hours, you will find these hearty meals to be quite satisfying.

Many accommodations also sell plenty of snacks and refreshments for you to take along on your lengthy jungle adventures.
ATMs in Gunung Leuser
There are no ATMs in Bukit Lawang.

There is an ATM in Bohorok (7.5 miles / 12km away by bus), but Visa cards are not accepted here.

Mastercards are accepted; however, they are not guaranteed to work.
Oftentimes the machines are empty or are simply not functioning.
As such, it is important to ensure that you have enough cash on you before leaving for Bukit Lawang. If not, will you either travel 37miles / 60km to the closest ATM or all the way back to Medan, where there are plenty of places to exchange and ATM´s

So if you didn´t bring enough money, will you lose almost one day in just travelling back and forward.
Gunung Leuser National Park | Things to Do
Gunung Leuser National Park is an important and biologically diverse conservation area. Together with two other Indonesian national parks, the park is a UNESCO World Heritage Site and makes up what is known as the Tropical Rainforest Heritage of Sumatra.
Gunung Leuser is named after one of the mountains which rises prominently in the northwest region of the park. This is a protected area with over 2.4 million acres of different forests, peatlands, and mangroves.

This expansive Sumatra rainforest is home to a wide range of plant and animal species.
In the Leuser Ecosystem, there are over 4,000 species of plants. Spread across this verdant Sumatra landscape are giant rafflesia flowers, strangler figs, ancient bayans, dipterocarp tree species with large buttress roots, and plenty more.

You will have to get an entrance ticket/Permits need to be arranged at a PHPA office before entering Gunung Leuser National Park. The fee is Rp 150,000 per person.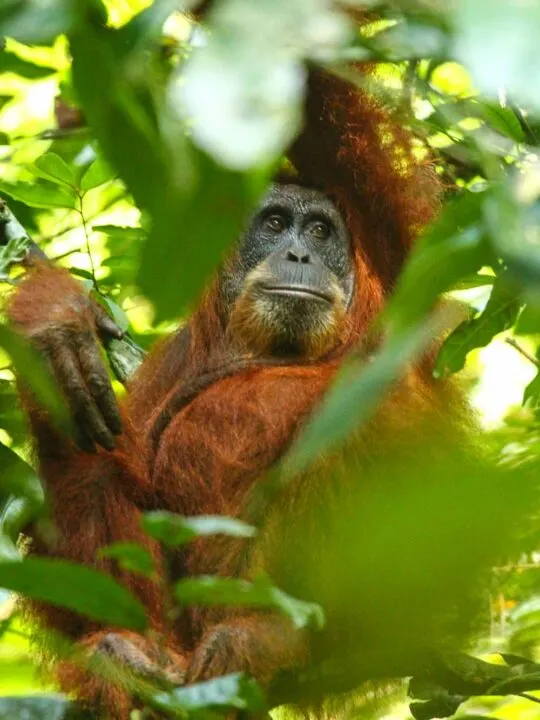 Gunung Leuser is also home to 380 species of birds, 194 species of reptiles and amphibians, and 130 species of mammals. Among these many species is the currently endangered Sumatran Orangutan, which draws in many travellers year-round.
With so much to see, one could spend a lifetime returning to explore this rainforest's many hidden wonders. Below are some tips on trekking in Gunung Leuser National Park.
When booking your trip into the rainforest, be sure to be in a small group when walking around the rainforest. When I did my walk, I came across a few backpacker groups that were more than 20 people in each group.

Young backpackers with a pre-booked tour through a European travel agency, which was more interested in playing loud music and drinking alcohol they had taken with them on the hike.
Finding the right guide for Gunung Leuser National Park
You are required to have a local guide with you to be able to walk around the rain forest, both for shorter day walks and for the longer overnight hikes.

And it´s important that you find a good and knowledgeable guide before your trek into the rainforest.

Unfortunately, the guide I hired, which was recommended to me by my guesthouse, was rather useless. He had no idea about any of the plants, trees in the Jungle, he was just walking around listening to music from his phone without headphones, so I'm still surprised we managed to see any wild Orangutan.
Trekking Gunung Leuser National Park
The best way to experience Gunung Leuser is by getting your boots muddy and trekking through the lush jungle. Many travellers opt to take an overnight trek.

A longer trek provides visitors with a greater chance to get away from the crowds and spot more Sumatra wildlife.
We recommend doing a two-day-one-night jungle trek. On this guided tour, you can expect to hike for around six to eight hours on your first day.

The following day, relax and swim in the river before making your way back the way you came. Throughout your trek, be sure to keep an eye out for orangutans.
If spending a night in the jungle is not up your alley, then consider a full-day jungle trek instead. While the trip is shorter, you are still sure to have an unforgettable experience.

The trek into the jungle starts only 5min away from Bukit Lawang.
Visit the semi-wild Orangutans at the Feeding platfrom
If you don´t have time go jungle trekking to see Orangutans in the wild, you can visit the feeding platform close to Bukit Lawang, the Orangutans here are still living freely, but they haven't left for the rain forest.

There are two feedings a day, breakfast at 8.00 am and 15.00, the ticket price to attend the feeding is 150,000IDR.
Leuser Ecosystem – Responsible Trekking Tips
While this unique experience offers plenty of opportunities to spot a variety of animal species, remember that you're in their home. As such, it is important to practice responsible trekking. Below are five rules to follow when visiting the Leuser Ecosystem:
Do not go within 30 feet of the orangutans.
Do not litter in the jungle, and ensure that nothing you've brought along with you is left behind.
Do not feed the animals.
Respect the animals' space. Do not be too loud and do not smoke while in the forest.
Avoid visiting the jungle if you are feeling sick. Orangutans, particularly the babies, are able to catch human diseases.
In addition to these five basic rules, be sure to book your tours with a responsible trekking company and to listen to your guide.
Unfortunately, my trek around the rainforest got a bit ruined by the guide; we did manage to 4 Orangutans in the wild.
It´s also a problem in Bukit Lawang and Gunung Leuser National Park that some of the "guides" bring food to feed them, to bring them closer, even tho this is strictly forbidden.
Will You Be Visiting Gunung Leuser National Park?
Gunung Leuser National Park offers a unique, off-the-beaten-path adventure in the lush mountains of Northern Sumatra. Maybe you are planning a trip to Borneo to see Orangutans instead?

On this trip, you will be exposed to sweeping views of the picturesque landscapes and the various species which occur here.

Remember that you may need to trek through some mud and climb some steep trails to spot some of these animals.
For another jungle adventure in Indonesia, we recommend that you visit Tumpak Sewu Waterfall in Java.

Much like Gunung Leuser, this natural wonder has grown in popularity and continues to attract travellers from across the globe.

Indonesia has more to offer than most people realise; here are 19 landmarks in Indonesia worth a visit.