Shiraz is a treasure in Persian culture & history and one of the most popular destinations in Iran both for locals and foreign tourists.
Iran is a country that might not necessarily end up on many travel lists in the west these days, but for a true traveler, it is a must-see!
Iran is a beautiful story made of history, culture, UNESCO world heritage sites, and tastes that keep you mesmerized and asking for more.

This is why I've now been to Iran 3 times, and I can't wait to go back for the 4th time. Iran is an amazing country if you look away from the news headlines in the west.
Travel Guide To Shiraz in Iran, a treasure trove of Persian culture & history and one of the most popular destinations in Iran both for locals and foreign tourists.
For those of you who heard that Shiraz is a pearl of the Middle East, you are right.

For those of you who heard that Shiraz is a kind of wine, you are also correct, and for those of you who haven't heard much of Shiraz, brace yourselves or, even better, buy a ticket to Iran.
But remember, no matter how much time you spend in Shiraz, it will not be enough, and you will be coming back for more.
Are you planning a trip to Iran, but need help with an itinerary, check out this great guide on how to cover all the highlights in Iran for three weeks.
Top 12 Things To Do In Shiraz, Iran
There are so many wonderful things to do in Shiraz, fitting in all of the important sites may be tricky. To really experience the heartland of Persian Culture, you want to experience a broad range of activities and places.

So we've put together the 12 top places to visit in Shiraz so that you can see it all.
Nasir al-Molk Mosque – The Pink Mosque
Stepping inside of Nasir al-Molk Mosque is nothing but a glorious experience. The mosque is more than 130 years old and serves both as an ode to art and as a religious masterpiece. You shouldn't miss it!
I wanted to experience the most of it, which is why I set off to the mosque early in the morning.
Luckily on that day, there was more sunshine, so I could fully experience the place. Entering the mosque leads you through the most stunning examples of Iranian craftsmanship.
Tall, dominant, curved arches, decorated with many lines and twirls carefully distributed to make stunning arabesques were just a mild announcement of what was coming up next.
This place is a playground for colors and wonder. Ceilings decorated with thousands of pink tiles and windows that were covered in mosaics made of painted glass were making a show inside.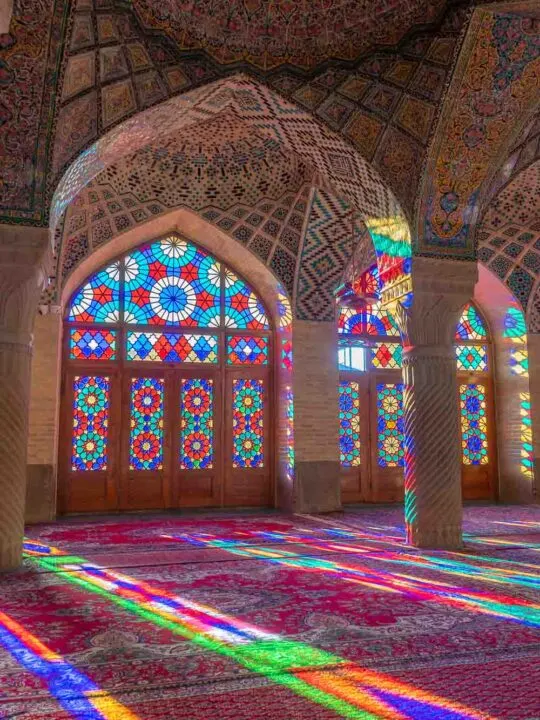 While the morning light was coming through the windows, the light started breaking into magnificent colors and nuances.
The interior came alive, and I could hardly avert my eyes and leave. Sitting there on the floor covered with a beautiful Persian rug will be one of the best pieces of peace you can give to yourself.

Plan to spend at least one whole morning here and try to absorb the spectacle.
Note: You should be at the mosque before it opens at 7 am, around 7.30, as it is already very crowded with tourists and you can just forget about getting photos without tons of people taking selfies.
Shop in Vakil Bazaar
A bazaar is still a place that carries loud voices of the times passed. It was built in the 11th century as a part of the greater plan to make Shiraz one of the most important trading cities in the world.
The bazaar today is stretching for about 3,000 m2, and it will take your heart in a moment even if you are not there for shopping at all.
Vakil Bazaar is not even only about shopping though the prices and variety of goods can tempt you into a shopping frenzy.

This bazaar is also about the architecture and Persian wisdom of building objects.
Namely, Vakil Bazaar is relying on tall, heavy wooden pillars holding up the massive structure of carefully carved and reshaped stone ceilings rising up to 10 meters.

Just looking at the curved arches can leave you in mystery.
This is a place where it seems that the whole town meets. Rest assured, it's not a place for ripping off tourists, but it is a place for serious negotiations. Don't be shy and bargain!

Or at least learn how to. It's the rule of trade in Iran.
Spices, teas, silk, Persian carpets, jewelry, and hundreds of other goods wait for you at Vakil Bazaar, so plan your budget wisely before getting submitted to the charm of the bazaar.
Vakil Mosque, The Royal Mosque
Vakil Mosque is another must-see in Shiraz. This mosque is a real jewel of Islamic architecture.
It was initially built in the 18th century as a praying place for the royal family of its founder Karim Khan Zand. During the time, the mosque was opened to non-royals as well.
Looking at this Shiraz mosque from the outside makes you think of the beauty of simplicity and elegant oriental architecture.
Coming closer, tons of details and subtle artistic decorations will come your way and leave you stunned. The main gate is decorated in a series of intertwining arabesques.
Massive pillars spiral up to the ceiling while you walk on a floor made of enormous stone blocks and make your way to the inner garden with a pool inside.
What keeps fascinating me is the way mosques combine simplicity with abundant beauty, complex art, and magical impressions. Once you enter the mosque, you get all these three amplified to the maximum.
And the best thing you can do is just to sit down on one of the perfect Persian rugs spread across the floor and just breathe.
The mosque is calming and refreshing, regardless of your religious beliefs. Let yourself get absorbed in the beauty of art and mastery joined in a celebration of a higher power.
Hafez Tomb
Shiraz is also called the city of love and literature, and the poet named Hafez is one of the main reasons for that.
Hafez was and is one of the most beloved Iranian poets, where his words of universal love and acceptance still inspire people from all over the world.
Hafez was a poet who was teaching the world how to put a smile on everybody's face and dive into this life with a joyful and loving heart.

It's no wonder that many of the artists all over the world were praising him and declaring that he is a poet of no match.
Today the city of Shiraz is giving thanks to the magnificent poet by carefully protecting his tomb. The tomb of Hafez is wrapped up with a beautiful garden stretching around and making the place even more magical.
Eight tall pillars support the elegant dome protecting the tomb. Looking up, you will see a dance of lines and an arabesque covering the entire inside of the dome, which remains predominantly aquamarine blue.

The place is mainly active in the evening when people come over to pay respect to the glorious poet.
Saadi's Tomb
Another important soul of Iran and Shiraz is Saadi. A poet whose work still inspires creators all over the world.
Furthermore, should you ever visit the entrance to the Hall of Nations in New York, you will be welcomed by Saadi's verses.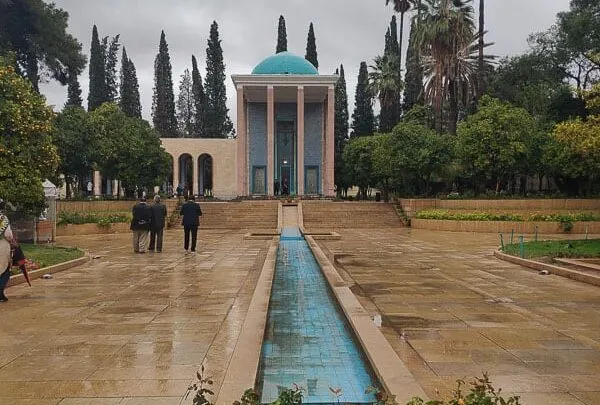 He was a poet and a traveler looking for the essence of existence, human purpose, and molding the conclusions in lines that cannot be recreated. Saadi is one of the jewels of Iran.
Saadi´s Tomb.
Saadi had taken part in many travels that were taking him all around the Middle East.

However, once he returned to his hometown, Shiraz, the people of the town, as well as the rulers, welcomed him with their hands widespread.
He was loved during his life and honored once he died. The Saadi's tomb is one of the must-see in Shiraz.
The tomb of Saadi is another beautiful complex, with a garden that is carefully taken care of, high slim trees soaring to the sky, and a beautiful mausoleum keeping the memory of the poet.

Proof of how much one town can love an artist who was helping them to elevate their beings.
Read the poems scattered all over the complex, enjoy the peace and tranquillity of the place, and imagine how it might have been for Saadi to try to get into the mastery of life and immerse yourself with the beauty of creation.
Eram Garden
Eram Garden was made to compete with paradise. At least that was what the original creators of it had in mind once they started imagining it.

Today is one of the main tourist attractions in Shiraz.
The reason is simple. This Shiraz garden does look like a piece of paradise on earth. Scents of dozens of sorts of flowers capture your senses and ease your mind in a second.
A tall wide building radiates gentleness and fits perfectly with the overwhelming sense of ease.
Eram Garden is an ode to architecture, nature, and, of course, poetry, as you will quickly see the verses of Hafiz all over the place.
Arg of Karim Khan
In the middle of Shiraz is Arg-e Karim Khan, also known as Karim Khan Citadel, a castle dating back to 1766 and was Karim Khan's personal castle, the ruler of Persia from 1751 to 1779.
After the fall of the Qajar dynasty in 1925, the fortress served as a prison until it was given to the Iran Cultural Heritage Organization in 1971.

The renovation of the castle started in 1977 to get the fortress back to its former glory.
Sayyed Alaeddin Hossein Mosque
The holiest site in Shiraz is the Shrine of Sayyed Alaeddin Hossein, one of the sons of the seventh Imam.

Mosque's walls and ceilings are covered with intricate mirror mosaics and colored glass.
It's absolutely gorgeous. As a non-muslim, you are required to have a guide with you.
But luckily it's free, and the guide speaks fluent English so that you will get a lot of information about both the Shrine and about Shiraz.
Take a Shiraz Day Trip To Persepolis
Probably the first thing you will do once you come to Shiraz is to go away from Shiraz, for about 60km. The reason is quite unarguable and about 2,500 years old.
The ancient city of Persepolis. King of all Kings, Darius the Great, started building this monumental complex as a gift to Persians. Hence the name of the city, when translated, means Persepolis – City of Persians.
Persepolis is one of Shiraz's UNESCO world heritage sites, and it is located less than an hour away from Shiraz. If there is only one thing to see in this area, then Persepolis is number one.
The city, once covered in silver, gold, and marble, now has been stripped of all of the precious stones, but its beauty is still ever-present.
Carved with attention, skill, and detail, the ruins of the city again sparkle imagination and make you wonder how it must have been once the city was at its peak.

Historians say it was a place for making glorious gatherings, hosting and impressing people from other nations, and diving into the full power of Persia.
I can easily believe that. No wonder Alexander the Great wanted to destroy Persepolis that much. Persepolis was a sign of strength and dominance that stood out and couldn't be ignored ever.
Discovering Persepolis will lead you at first through the Gate of all Nations, a large gate made of stone that is still holding on against the ages.

The gate is protected by two statues of bulls with heads of humans. Furthermore, the whole complex is full of mythological creatures and carvings that will make you wonder where the inspiration came from.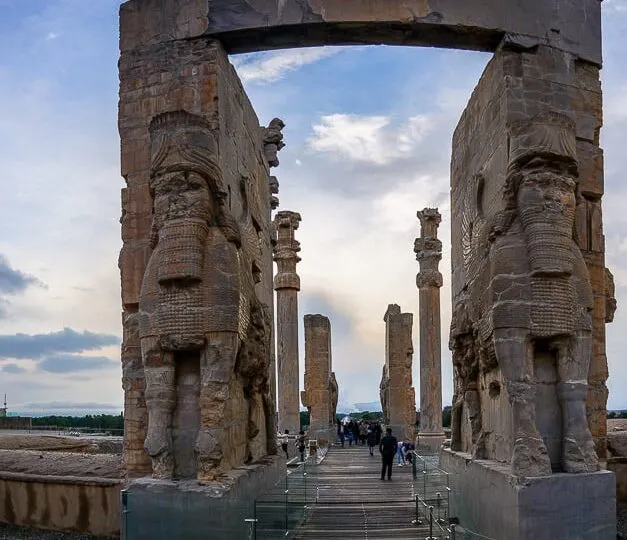 Take your time, wander around and absorb as many details as possible as the place is brimming with art masterpieces, mesmerizing designs, and fascinating sceneries.
Feel free to spend one whole day in Persepolis, but mind the weather. In the warm seasons, the sun can be very strong, so make sure you are protected.

I didn't have those problems, though, as my visit to Shiraz was accompanied by rain and clouds stretching over the ancient town. Somehow it made it look even more monumental.
Spend Time With locals
The special beauty of Shiraz, and Iran, in general, is in its people, like in the rest of Iran.

Their hospitality and care cannot be measured nor compared with anything I had experienced before in any other countries around the world, even tho both Syria and Iraq are also extremely hospitals and friendly towards tourists, never trust western what western Media is telling you about the Middle East.

Make sure you don't miss hanging out with locals, diving into their stories, and learning about the country that has so much beauty and contrast.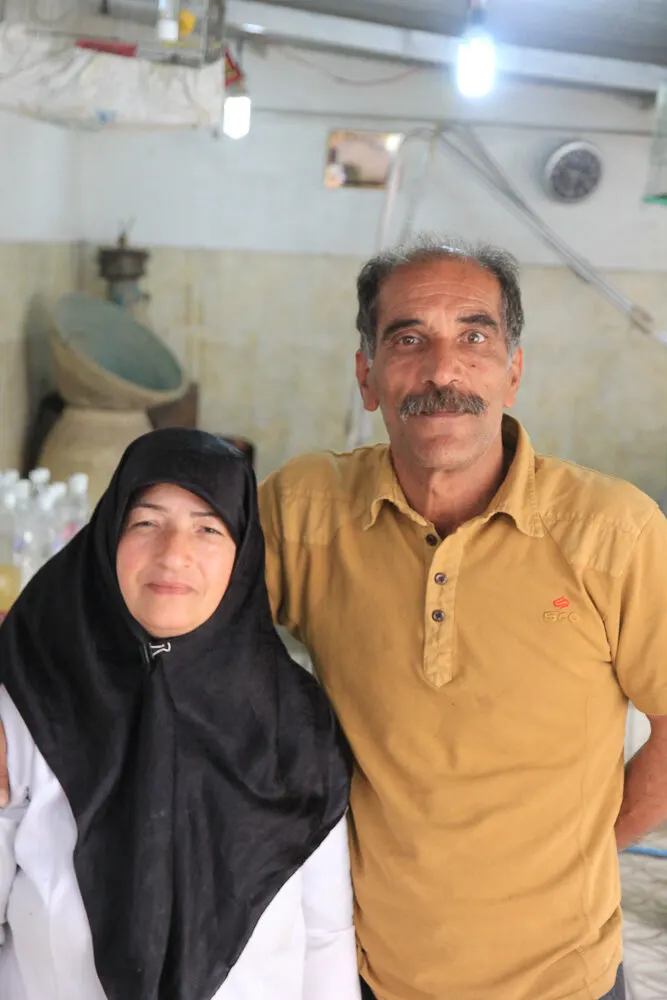 It seems as if the ages of being one of the key countries on the Silk Road made Iranians even more open to travelers from all sides of the world.

They will always help, give advice, and even host you in their homes free of charge. Don't try to say no, as you might even offend them.
Iranians have generations of practice hosting the whole world on its territory, so make sure you experience it yourself.
Go on a Picnic
While being in Shiraz, I learned so much about the culture, history, people, and how to enjoy life and food.

Food is very important for Iranians, and they are masters in enjoying the moment.
Hence, a picnic! Picnic is almost a national sport. Everybody seems ready for it at all times. I cannot even count the number of times when I was seeing people stopping by the road, opening the trunk, and pulling out baskets full of food and blankets to spread on the ground.
Many of the times this happened, I was actually invited to join and enjoy food in Iranian style. I loved it! So, if you are invited to a picnic freely, say YES!
Try the Local Food in Shiraz
One thing is sure, in Iran, you will never stay hungry! The food is absolutely delicious and comes in so many variations to please everyone's wishes.

Dive into the kingdom of spices, fresh fruits and vegetables, pistachios, and desserts that will give you a boost. Whatever you do, don't miss Faloodeh.
Faloodeh is a famous semi-frozen delicacy made of vermicelli-sized noodles mixed with a combination of lemon juice, rose water, and syrup. It's refreshing and delicious.
Apart from desserts, make sure you try as much of the local food as possible. The dishes are tasty and generous, and you will be coming back for more.

Kalam Polo (Cabbage Rice) is one of the main things you need to try, or you might as well have not come to Iran at all.
Note: In the northern part of Shiraz is a world-class restaurant, "Haft Khan." Personally, it's one of my top 5 food experiences in the world.
How to Dress When You Travel to Shiraz
Iran is different from what you might hear from mainstream media. The country is not so oppressive nor ultimately conservative.

However, there are still some rules that must be followed. Dressing up appropriately is one of them. In Shiraz, I learned that you are not allowed to enter mosques in sandals or shorts and that you need to pay respect and dress up accordingly.
Dress up is a bit more demanding for ladies as they are asked to wear scarfs and cover their hair regardless if they are Iranian or foreign.
Pay attention to such detail and make sure you are respectful to the culture you are getting to know at the end of the day. That is what makes a traveler a genuine one.
Shiraz is a glorious place that stole my heart forever. Every street of this city holds stories, inspiration, and people who will charm you forever.

And don't be surprised if at one point you start asking yourself a question, "Could I live here?"
How to Get to Shiraz, Iran
Shiraz is easy to reach from all over Iran with long-distance buses and trains, Esfahan is 6 hours away, Yazd is about 5 hours, Tehran is 12 hours away.
Flights To Shiraz
Shiraz International Airport (SYZ) is very well connected to all other countries in the Middle East, and it's often a cheaper option to fly into Shiraz than to Tehran.

The most important Airlines flying to Shiraz and the departure cities are:
Air Arabia: Sharjah.
Fly Dubai: Dubai.
Iran Air: All larger cities in Iran, plus Baghdad in Iraq. Kuwait and Saudi Arabia.
Pegasus Airlines: Istanbul.
Qatar Airways: Doha.
Turkish Airways: Istanbul.
Final Thoughts on Shiraz Tourist Attractions
There is a lot to do and see in the heartland of Persian Culture. Spend your days staring at incredible mosaics and Arabesque designs in the city's mosques before going on a picnic with locals.

You can fill your days in such unique and interesting ways in the city of Shiraz.
I absolutely loved it here and was blown away by the friendliness of the locals, the beautiful mosques and tombs, and the authentic traveling experience.

There are not that many places left in the world that offer such a genuine experience. So pack your bags, and get ready for the trip of a lifetime!