Užupis is a small bohemian republic in Vilnius, Lithuania. In fact, it is the smallest district in Vilnius, covering an area of only 0,6 km².

The name Užupis means "over the river", as the tiny neighborhood sits on the other side of the Vilnelé River, separated from the Old Town.
Passing over lock-ladened bridges, visitors will find themselves in the self-proclaimed Republic of Užupis. While this neighborhood sits in the heart of Vilnius, it has its own constitution and special independence day.
While small, there are so many unique things to do in Užupis. From the famous Užupis bridge to the colorful street art, a visit to this quirky neighborhood is like a fairy tale.

In this article, we will highlight everything you need to know about this magical independent country.
Tip: Before you go, be sure to pack in your polaroid camera, as this unique town is sure to have you snapping away.
Republic of Užupis – Constitution & History
Užupis is one of the oldest districts in Vilnius, dating back to the 16th century.

It is also the poorest area in the city with many manual workers and is home to the red light district.

In its past, the district had many dark days, slowly becoming a dangerous part of town that many people avoided.
Following Lithuania's independence from Soviet rule, artists in Vilnius took advantage of the cheap accommodation in the area. These new residents turned Užupis into a hive of creativity.
As of April 1, 1998, the Užupis neighborhood in Vilnius has been considered a free republic, with its own president, government, anthem song, national flag, and currency, with 1 EuroUžas (EUZ) equal 1Euro or 1 pint of beer.


The little "country" has its own constitution, which is engraved in English, Lithuanian, French, Chinese, Norwegian, Georgian, Japanese, Hebrew and several other languages on plaques running along Paupio Gatve.
The Užupis constitution
Everyone has the right to live by the River Vilnelė, and the River Vilnelė has the right to flow by everyone.
Everyone has the right to hot water, heating in winter and a tiled roof.
Everyone has the right to die, but this is not an obligation.
Everyone has the right to make mistakes.
Everyone has the right to be unique.
Everyone has the right to love.
Everyone has the right not to be loved, but not necessarily.
Everyone has the right to be undistinguished and unknown.
Everyone has the right to idle.
Everyone has the right to love and take care of the cat.
Everyone has the right to look after the dog until one of them dies.
A dog has the right to be a dog.
A cat is not obliged to love its owner, but must help in time of nee[d].
Sometimes everyone has the right to be unaware of their duties.
Everyone has the right to be in doubt, but this is not an obligation.
Everyone has the right to be happy.
Everyone has the right to be unhappy.
Everyone has the right to be silent.
Everyone has the right to have faith.
No one has the right to violence.
Everyone has the right to appreciate their unimportance. [In Lithuanian this reads Everyone has the right to realize his negligibility and magnificence.]
No one has the right to have a design on eternity.
Everyone has the right to understand.
Everyone has the right to understand nothing.
Everyone has the right to be of any nationality.
Everyone has the right to celebrate or not celebrate their birthday.
Everyone shall remember their name.
Everyone may share what they possess.
No one can share what they do not possess.
Everyone has the right to have brothers, sisters and parents.
Everyone may be independent.
Everyone is responsible for their freedom.
Everyone has the right to cry.
Everyone has the right to be misunderstood.
No one has the right to make another person guilty.
Everyone has the right to be individual.
Everyone has the right to have no rights.
Everyone has the right to not to be afraid.
Do not defeat.
Do not fight back.
Do not surrender.
Since the declaration of its independence, Užupis has grown into a beautiful neighborhood of artists, intellectuals, entrepreneurs, and free spirits, but also a lot of heavy restoration and construction of new apartments building, so the place might not feel as bohemian as it used to.

To this day, Užupis continues to celebrate its independence day on April 1, to celebrate its independence which happened in 1998.
When to Visit Užupis
A good time to visit Užupis and Vilnius is during the spring or summer, when the weather is good enough to enjoy a stroll through the city.
Spring in Lithuania starts in mid-March; however, you can still find some patches of snow throughout the country during this time. Average temperatures throughout spring range between 1ºC and 18ºC (34ºF and 64ºF), so it is best to pack in some extra layers.
Summers are warmer, with temperatures ranging between 11ºC and 23ºC (52ºF and 73ºF). While it is warmer, summer is also the country's wettest season.

These mild temperatures are ideal for exploring the magical Užupis – just be sure to carry a rain jacket with you.
The best time to visit Užupis, in our opinion, is between September and October. During this time, you will be exposed to beautiful foliage and pleasant weather.
Alternatively, visit Užupis over its independence day. To celebrate the republic's freedom, locals flock to the streets for a day filled with festivities.

Each year, the celebration comes with a different theme. Themes can be anything like "library", "airport", and recently "for friends".

You can also watch the annual launch of the Užupis navy – a fleet of children's handmade ships.
Things to See and Do in Užupis
Located within Vilnius, the small republic of Užupis offers plenty to see and do. So much so that one could easily spend more than a day exploring. Below, you'll find some of the best things to do in Užupis.
Crossing the Užupis Border
As Užupis is its own independent republic, with its own constitution, government, and anthem, it is no surprise that it has its own border control.

For many visiting Vilnius, stepping across the border and getting your passport stamped is the ultimate Užupis keepsake.
The bridge going over Vilnelé River is where you will get your passport stamped. Also found on this iconic bridge is a sea of locks left behind by lovers.
If you're visiting with your significant other, be sure to leave behind a lock of your own.
Walk Along Vilnelé River
Take a blissful stroll along the beautiful Vilnelé River. Along the way, you will spot rotating art exhibits, as well as the iconic Užupis Mermaid.
The mermaid sits hidden in the wall of the riverbank just under the bridge. The mysterious sculpture is the work of Romas Vilciauskas and resembles hair similar to Medusa.

Legend has it that if you stare at the mermaid for too long, she will lure you into staying in Užupis forever.
Also found along the river is the famous Destiny's Swing.

This is a colorful swing covered in dream catchers.
Note that it will require you to get your feet wet to reach this swing. This is a great spot to enjoy the scenery, as well as snap a couple of pics.
Užupis Art Incubator
In 1996, a group of students from the Vilnius Academy of Arts founded an artistic community beside the Vinelé River.

This gained a lot of support from the local Užupis community, and in 2002, the group of artists joined hands with the Vilnius City Municipality to establish the Užupis Art Incubator.
The Užupis Art Incubator is a popular attraction amongst people visiting the little district. Here you will find some fascinating sculptures, paintings, and even a piano that you can play on.

Inside, you can purchase all sorts of Užupis souvenirs, including local artwork, badges, postcards, pottery, clothing, and even your own copy of the Užupis constitution.
Admire the Užupis Street Art
When walking through the streets of Užupis, you can't help but marvel at the colorful display of street art.

Near the Užupis Art Incubator and Vilnilé River, visitors will find an assortment of frequently changing works. These unique pieces do a great job of brightening up the city, especially during the long, grey winters.
Užupis is a treasure trove of art installations featuring large murals, sculptures, and more.
An artwork worth keeping an eye out for is the famous Dream Tree of Vilnius.

There are also a number of ordinary street signs and blockades that have been transformed into some unique abstract pieces.
Walking through this area feels as if you're walking through a Banksy exhibition. This sea of art is what truly makes Užupis such a fun and beautiful place to be in.
Find the Angel of Užupis
Urban legends have it that the Dalai Lama suggested placing a bronze sculpture of an angel at the center of this district. But in reality, it was the locals that came up with the idea.

The people of Užupis put up the angel to commemorate the life of Zenonas Steinys, a well-renowned artist amongst the local community.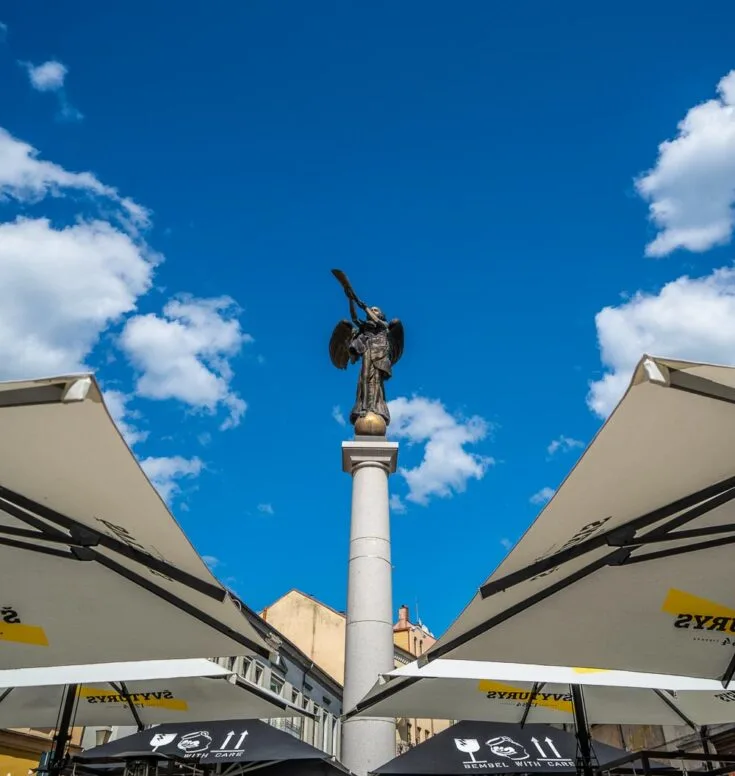 You can find the bronze statue of Archangel Gabriel just down the street from Kolekcija in Užupis' Central Square. Today, the statue acts as a symbol of the republic, representing their independence.

Interestingly, this statue was sculpted by the same artist that created the Užupis Mermaid.

There´s also another statue worth checking out, a small statue of a "Backpacking Jesus" located along the riverfront.
Previously, a temporary sculpture of an egg stood at the place of the Angel on the central Square in Užupis, but on On April 1, 2002, the egg was replaced by the current Angel statue, the old egg is now located on Pylimo street in old town Vilnius.
Bernardine Cemetary
Bernardine Cemetery is the second-oldest cemetery in all of Vilnius, located in the far eastern edges of the district on the right bank of the Vilnia River.

Bernardine Cemetery is the eternal resting place of various cultural, social and scientific people for over 200 years.
The Cemetery was established in 1810 by the Bernardine monks of the Church of St. Francis of Assisi, and the place is today beautiful local historical and cultural objects of the 19t still visible in Vilnius.
Where to Stay in Užupis
Užupis is a small district, and as such, there aren't really any luxury hotels or resorts. However, there are a number of great hostels and other rentals that will ensure you have a comfortable stay.

Below are three unique Užupis accommodations worth checking out.
Downtown Forest Hostel & Camping
A favorite amongst many visitors, Downtown Forest Hotel & Camping sits at the foot of a hill in the heart of Vilnius. Here you find a variety of rooms, as well as several charming bungalows surrounded by trees.

Many travelers also love this cozy spot because it is ideally located just a 10-minute walk from the Old Town.

Check Availability
Hostel Filaretai
This accommodation is ideally located at the center of Užupis, just 5 minutes from the Old Town. It offers shared facilities, as well as a number of spacious rooms.

While this hostel is not the most flashy, it provides guests with a great location to experience the beauties of Užupis, which can be found right on your doorstep.

Check Availability
Igo Apartment Užupis
The Igo Apartment is a simple self-catering accommodation in the heart of Vilnius. It is spacious enough for two adults and two children.

This apartment is near many popular attractions, including Gediminas' Tower, St Anne's Church, and many more.

Check Availability
Will You Be Visiting the Independent Republic of Užupis?
Užupis is a beautiful area in Vilnius with many charms and surprises. There is something to see at every turn and plenty of friendly people to enjoy it with.

With spectacular views, historical buildings, vibrant art, and delicious foods, there is something for everyone who visits.
Užupis' independence from the rest of Lithuania has resulted in a space where people can truly express themselves.
This freedom is what makes Užupis such a special place and most certainly one worth visiting.
Interested in visiting other magical places? Check out the charming capital city Riga, Latvia, just next door.