Klaipeda, also known as Memel, is a charming port city in Lithuania.
This popular spot is located along the magnificent Baltic coast and is renowned for its cobblestoned old town, ice-free port, and unique character.
It is also a gateway to one of Europe's best-kept secrets – the Curonian Spit.

A verdant paradise with miles of white-sand beaches, this spot alone is enough reason to visit this beautiful country.
In this article, we will detail everything you need to know about Klaipeda Lithuania, including how to get there, when to go, what to see, and more.
Before you go, check out this article on what to pack for a Europe trip.
Klaipeda, Lithuania – All You Need to Know
The city of Klaipeda is sure to impress you with its stunning architecture, cobbled streets, and sandy beaches.
And above all, it is brimming with culture and local legends and has a thriving food scene.
Where is Klaipeda
Klaipeda is located in western Lithuania along the coast of the Baltic Sea. It is the country's third-largest city, as well as its only seaport.

The exact geographical location of this stunning city are as follows: 55° 45′ 0″ N, 21° 10′ 0″ E
How to Get to Klaipeda
Klaipeda, situated between Latvia, Russia, and the Baltic Sea, can be easily accessed via the sea, land, or air. Detailed below are the various forms of transportation that can be used to reach Lithuania's seaport city.
By Car
If you're visiting Vilnius, Lithuania, you can travel into Klaipeda by car or express bus. A four-lane expressway connects the city with Vilnius, Kaunas, and Palanga.

The duration of the drive is between 3 and 4 hours during weekdays, but during the weekend when it seems like the whole of Lithuania want to visit the cost the trip is notorious for its traffic jam, on Friday going towards Klaipeda and on Sunday when people travel back home again, during those days the drive can take 6 and even up to 8 hours.
By Train
There are also passenger trains running between Vilnius, Radviliskis, and Klaipeda station. Both routes include stops in various towns – namely Plungė, Kretinga, Šiauliai, and Telšiai.

The journey by train from Lithuania's center to the Baltic Sea generally lasts around 4 hours.
By Plane
Klaipeda has no passenger airport; however, there is an airport in Palanga about 30 kilometers (19 miles) away.

From the airport, you can take the shuttle to Klaipeda. Traveling from Palanga Airport to this Baltic Sea town takes around 40 minutes.
By Ferry
As Lithuania's only seaport, the city of Klaipeda can be easily accessed by ferry from Germany and Sweden. These boats run overnight to and from Klaipeda port and are able to carry both passengers and cars.

The duration of this trip varies between 11 and 26 hours. There are also a number of cruise ships that visit the city during the summer.
Best Time to Visit Klaipeda
Lithuania is known to have short summers and freezing winters. A good time to visit is during the warmer seasons when the weather is good enough to enjoy a walk through the city or along the beach.
Beach time in the Baltics is best enjoyed from June to August. To avoid the crowds, visit either side of summer, in May or September.

During this time, the weather is still pleasant enough for a stroll through the city's cobbled streets; however, you will need a jacket.
In fact, packing an umbrella and rain jacket is a good idea no matter when you're traveling to this beautiful country.
Top Things to Do in Klaipeda, Lithuania
From the city with its many historical sites and stunning architecture to the coast with its beautiful beaches, there is plenty to see and do in Klaipeda.
Below are the top attractions in and around the city.
Take a Day Trip to the Curonian Spit
The UNESCO-listed Curonian Spit is a 98-kilometer (61 miles) long sand-dune that separates the Curonian Lagoon from the Baltic Sea coast.

This natural wonder is one of Lithuania's top attractions and cannot be left out of your itinerary.
There is plenty to do here, and a Curonian Spit day tour is one of the best ways to see everything. The destination's biggest draw is the Parnidis Dunes, which is a 52-meter (170 feet) high dune in Nida.

While reaching the top involves a bit of climbing, you are rewarded with exceptional views of the lagoon on your left and the Baltic Sea on your right.
Other attractions here include the Curonian Spit History Museum, Thomas Mann Museum, Nida ethnographic cemetery, and the beaches at Smiltyne.
There are two Lithuanian towns at Curonian spit, namely Nida and Juodkrante. There are several hotels and restaurants there, so you can easily spend a night on the peninsula.
Explore the Klaipeda Old Town
A favorite activity amongst travelers visiting Klaipeda is exploring the Old Town. This is a small town, so small that you can walk through it in 15 minutes or less.

While this spot is a popular attraction, it is seldom too crowded.

More often than not, you will find yourself enjoying the peace and quiet, surrounded by some of the city's most beautiful architecture and monuments.
One thing you will notice when walking through this little town is that the architecture is vastly different from what is commonly seen throughout the rest of Lithuania.
This is because the area of Klaipeda used to be German.
We recommend starting your tour by walking down Turgaus Gatve until you reach Theatre Square.

It is said that Hitler stood here when announcing Klaipeda's annexation to Germany.
Another noteworthy stop is the beautifully restored Friedricho Pasazas.

These historic buildings are a popular chill spot amongst locals and tourists. In the summer, live music performances often take place in the courtyard. Here you will also find a bakery, pizzeria, steakhouse, winery, and several other spots serving traditional Lithuanian food.
Go Sculpture Hunting
Klaipeda, particularly the Old Town, is a great place to go sculpture hunting. There are many hidden statues situated around the town.

The most noteworthy one to look out for is the sculpture Anchen von Tarau in the Theatre Square – which is considered the heart of Klaipeda city.
Head down to Klaipeda Harbor, and you will find the statue of the Klaipeda Black Ghost.

While it has an ominous feel, legend has it that the man portrayed once saved the inhabitants of the city by warning them about an upcoming famine.
Also located within the city is Sculpture Park. This is an awesome place to explore as it houses some exquisite pieces of art, all surrounded by tall shady trees.

In this park, you will find a total of 116 impressive granite sculptures representing the Lithuania sculpture era.
Visit the Castle Museum
While there are many interesting museums throughout Klaipeda, the Castle Museum is among the most famous. Housed in the authentic 16th-18th century underground defensive galleries, the museum provides visitors with a unique look into Klaipeda's rich history.
The museum features archeological finds discovered at the castle site and in Klaipeda Old Town.

Discover the remains of the castle in more detail, alongside other historical artifacts like Curonian weapons, jewellery, tools, and tin-glazed tiles that date back to the Renaissance period.

One of the museum's most valuable finds is a gold ring encrusted with gemstones from the 16th century.
Some other popular Klaipeda museums worth visiting include the Museum 39/45, the Blacksmith's Museum, the Museum of Clocks, and the History Museum of Lithuania Minor.
Enjoy the Klaipeda Beaches
One of Klaipeda's biggest draws, especially during the warmer seasons, is its breathtaking coastline along the Baltic Sea. Along the stretch of white sand are some of the most spectacular beaches in Lithuania.

Below are a few beaches worth visiting.
Melnrage
Melnrage is split into two beaches. The first beach is a popular spot for anyone interested in kitesurfing. Here you will find lifeguards and a surfing school, as well as several other amenities, including changing cabins, restrooms, and cafes.
On the North Pier, visitors can take in sweeping views of the ocean. This is also a good spot to watch the sunset or take some fun pics, so be sure to bring along a camera, or even better, a polaroid!
The second beach is also a great spot for recreation lovers. Here you will find plenty of activities, including basketball, volleyball, and outdoor exercise equipment. There are also playgrounds for the kids.
Smiltyne
Smiltyne beach comprises two stunning white-sand beaches. These are located on the thinnest stretch of the famous Curonian Spit.

These natural wonders are completely unspoiled as they can only be accessed by water.
To reach the Smiltyne beaches, you can grab the Old Ferry (Danes St. 1) or Naujoji Ferry (Nemuno St. 8).
Giruliai
Giruliai is a picturesque beach located in the north of Klaipeda City. It is one of the most popular beaches in the Klaipeda region and is frequented mostly by families on vacation.
This beach sits surrounded by nature so beautiful that a botanical zoological reserve was established here. The recreational area also has a rich history dating back two hundred years.
Today, Giruliai beach remains a popular spot among locals and tourists alike. In and around the beach are a number of amenities, including a lifeguard station, changing cabins, and cafés.

There is also a lovely wooden deck where beachgoers can view the sunset and take photos.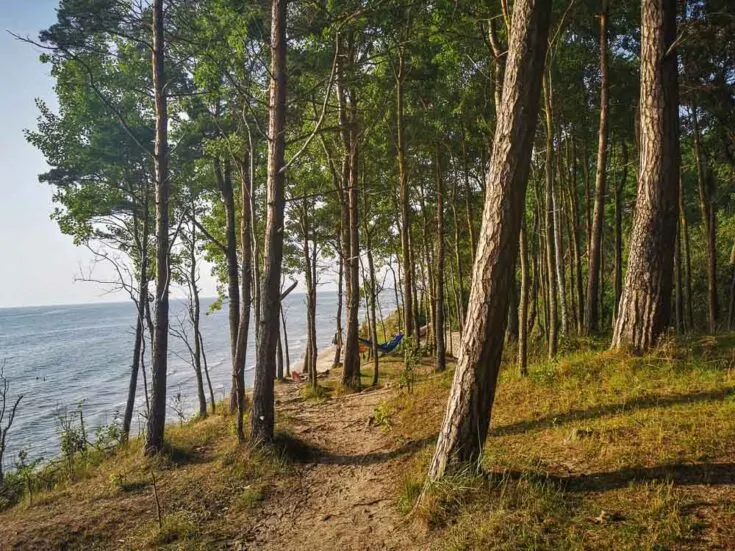 Have Fun at Dino Park
If you're traveling with kids, be sure to take a trip to Dino Park. Here, they can see life-size dinosaurs that are both scary and impressive.
While the dinosaurs are not real, there are plenty of animals on here, including lamas, rabbits, and many more. In the park, you will also find playgrounds, rides, and several other fun activities to enjoy with your kids.

Dino Park is ideally located in a lovely forest just 15 minutes from Klaipeda City.
Take Pictures in the Radailiai Upside Down House
Nearby, you will also find the Radailiai Upside Down house. This is a quirky, family-friendly attraction that looks like a typical home standing on its roof. Inside, confuse your perspective and snap some interesting pictures of yourself seemingly hanging from the ceiling.
Where to Stay in Klaipeda
The city of Klaipeda offers visitors a variety of accommodation options.
These range from cheaper hotels and guesthouses to luxurious hotels and resorts.

But be aware that locals from all over Lithuania like to spend their weekends in Klaipeda during the warmer summer months, so it´s not uncommon for all accommodation to be fully booked during June, July, and most of August, especially during the weekends and public holidays.

While there are many endless options to choose from, here are three accommodations sure to provide you with a comfortable stay.
Amberton Hotel Klaipeda
A modern four-star hotel located next to the Baltic Sea. It is also ideally located within walking distance from Klaipeda's city center, the old town, and several other top attractions.

This luxury hotel offers a variety of rooms thoughtfully designed to ensure guests a comfortable stay.
The hotel is also a great place for recreation as it features several restaurants, an entertainment center, bowling, and more.

Check Availability
Morena Klaipeda
The Morena is a simple three-star accommodation located just a few steps away from Klapeida's pristine white-sand beaches.

The charming hotel sits surrounded by pine forest and is also within close proximity to the city center. Some notable features at the Morena include an on-site restaurant, bar, and sauna.

Check Availability

Friedrich Guesthouse
Located in the heart of Klaipeda's old town is the Friedrich Guesthouse – a quaint accommodation and a favorite amongst couples.
This modern guesthouse conforms to modern standards while keeping the spirit of the historical town alive.

It is also ideally located near many of Klaipeda's top attractions, as well as the bus and train stations and ferries.
The staff at the guesthouse are always happy to assist, from ensuring a comfortable stay to helping you get around town.

Check Availability
Start Planning Your Memel Lithuania Vacation
Within Lithuania, Klaipeda is one of the most beautiful cities. It has plenty to offer to those who visit its charming town and pristine shores.

From its many historical attractions to its unspoiled natural wonders, there are so many experiences to enjoy with your loved ones.

Whether you're traveling as a family, group of friends, or as a couple, you are guaranteed an unforgettable trip.
For more adventures, be sure to check the capital city Riga, Latvia next door – a city famed for its Art Nouveau architecture and plenty more.