The Republic of Palau is a tropical paradise in the western part of Micronesia. It's a one-of-a-kind nation built up by tiny islands – 300 to be exact – but only a few are inhabited.
The islands are home to what may be the most pristine dive sites in the world – and the main reason to visit Palau.
Before you can head off and explore this small piece of heaven in the south Pacific, there are a few things you'll need to know – like how to get to Palau, how to travel around the islands, and more. Let's dive straight into it.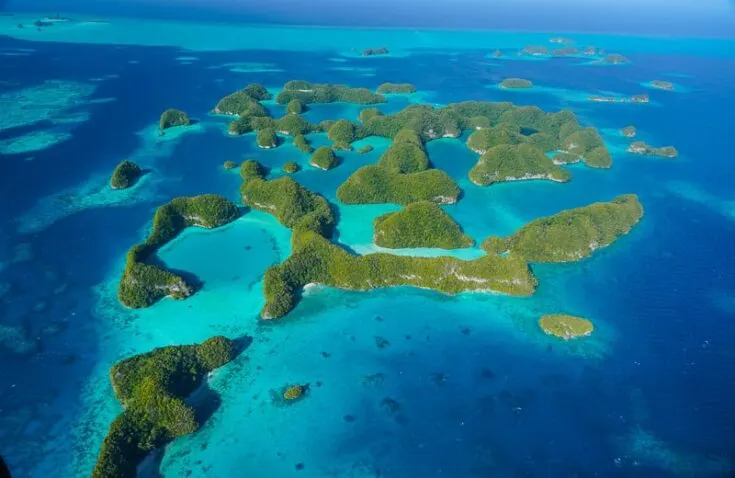 Where is Palau?
Most people wouldn't be able to point out Palau on a map. That's not that strange since Palau is such a tiny country. You will have to look very closely on Google Maps to even notice the place.
But where exactly in the world is Palau? To be precise, Palau is located on 7° 30′ North Latitude, 133° 30′ East Longitude in the far western edge of the south pacific ocean.
Palau is home to 340 islands, with 300 of them being uninhabited islands located around the stunning Rock Islands UNESCO World Heritage site – also home to Jellyfish Lake.
Other islands which belong to Palau are the remote Kayangel island which is home to only 50 people, and the extremely remote Sonsorol Islands and Tobi island (population 7).
Palau is located about 3,200 km (2,000 miles) south of Japan and about 900 km (560 miles) east of the Philippines. Palau is literally in the middle of nowhere in the western Pacific Ocean.
Note: If you are visiting this remote part of the world, it is also worth visiting the neighboring Federated state of Micronesia and Pohnpei, which is home to the mysterious ruins of Nan Madol.
Palau: How to Get There
The only way to reach Palau is through the tiny Roman Tmetuchl International Airport, which is the only Palau Airport.
The airport serves only 5 different destinations in 5 different countries.
It only sees 20 departures and arrivals from abroad a week, so your flight options are pretty limited when it comes to how to reach Palau.
Flights to Palau
Knowing who flies to Palau is the first step in reaching this dream destination.
Asiana Airlines (Star Alliance) offers two flights each week from Incheon, South Korea. If you're traveling from here, be sure to check out my guide on attractions in Seoul.
China Airlines (SkyTeam) offers four flights a week from Taipei, Taiwan.
United Airlines (Star Alliance) offers a daily flight from Guam and a weekly flight from Manila and The Philippines.
Korean Airlines (SkyTeam) offers two flights a week from Incheon, South Korea.
Lanmei Airlines low-cost airlines from Macau, flights are currently suspended due to Coronavirus, but keep checking for when they reopen – it could be any one of these days.
Roman Tmetuchl International Airport is tiny with close to nothing when it comes to the facility. There's an ATM and a mobile shop selling local sim cards (but it is closed during the night).
There's also no public transportation and no taxis at the airport upon arrival.
So, it's crucial that you have pre-booked transportation from the airport to your hotel/guesthouse.
If not, you will be stuck at the airport for a long, long time.
Visa Requirements for Visiting Palau Island
Palau has some of the most liberal visa rules in the world. With only 2 nations needing visas in advance – Bangladesh and Myanmar – all other citizens of every country in the world will receive a free visa on Arrival.
Tip: If you're coming from Bangladesh, be sure to check out the unique city of Dhaka.
The Palau visa is actually a pledge that you will not harm the environment, which you will have to sign on Arrival.
Americans get a 1-year visa on Arrival. Visitors from Schengen countries will receive a 90-day visa on Arrival, while all other nations receive a 30-day visa upon Arrival.
You may be asked to show proof of return ticket out of Palau and that you have sufficient funds (USD 200 per week).
Customs
Palau has fairly strict custom rules, and your bag will be checked upon your arrival.
You are only allowed to bring 1 bottle of liquor and 1 pack of twenty cigarettes duty-free.
It's also illegal to bring in any type of fresh fruit, vegetables, or any food products.
Drugs are strictly forbidden, and you are required to have a prescription for all types of medicines or drugs in your possession.
Departure Tax
You were previously required to pay Departure Tax, payable in U.S. dollars when you were leaving the country. The departure tax is now included in your flight ticket.
How to Visit Palau | Permit Requirements
Most activities in the country require you to have a permit, which is more like an entrance ticket to different sights. All travel agencies can get you the permits, or you can get them from the tourist information office itself.
Be aware that the permit/entrance ticket will get checked, and you will get fined heavily if you try to sneak in. Trying to sneak into Jellyfish lake will result in a $700 fine.
If you want to visit the famous Rock Islands, a permit will cost you $50. This includes Rock island and diving but NOT the jellyfish lake. The permit is valid for 10 days.
A Jellyfish lake permit costs $100 and is valid for 10 days. This permit includes Rock islands.
Other permits include:
Diving Permit: $30
Fishing Permit: $20. Valid 1 month
Snorkeling Permit: $10
Ngardmau waterfall: $10
Peleliu island has its own permits, including:
Peleliu WW2 Relic sites: $20
Peleliu Water Permit: $20. This is additional to the Scuba diving permit if you are planning on diving at any of the dive sites around Peleliu.
How To Travel Around Palau
Public transportation in Palau is basically non-existing around the islands outside the main city Koror and Malakal.

But there is scheduled transportation between Koror and Peleliu with public ferries.
You will have to take a small plane to reach Angaur. And if you want to reach the remote atoll of Kayangel, you will have to join a tour for a day trip or charter a boat.
Travel with Public Ferries In Palau
The ferry runs from the public ferry dock at Malakal, 3 km (1.8 miles) west of Koror center. A taxi from Koror to the ferry dock will cost you $7.
NB: Be aware that there is no taxi outside the airport upon arrival, but just go to the small convenience store at the dock, and they will call you a cab.
There are two government ferries between Koror and Peleliu, a fast one named the Odesangel Dill and a slow one named the Nippon Maru II.
Both ferries are very basic. On the slow ferry, you are recommended to bring your own chair. And be sure to bring snacks/drinks for the journey, there's nothing for sale onboard.
The public ferry schedule changes every month. The Public ferry between Koror/Peleliu and Angaur has not been running for more than 6 months. So, the only option for getting to Angaur is with a small local flight.
The public ferry takes approximately 2 to 3 and a half hours, depending on the weather, wind, and which route it has to take around the rock islands.
When it's windy, it is a very uncomfortable and wet trip (waves splash over the whole boat). It was like this for my return journey from Peleliu.
The price is $20 for the slow boat. The fast boat takes 1.5 hours and costs $40. Each boat charges a $1 fee for each bag you take with you.
The incredibly remote islands of Sonsorol Islands and Tobi island have no public ferries since it's more than 20 hours each way to reach them.

But they do have once-a-month cargo boats going there with supplies that you might be able to hitch a ride with.
The remote northern atoll of Kayangel is easiest visited by an organized tour since there are no public ferries there.
Ferry Schedule to Peleliu
Domestic Flights in Palau
The only airline doing scheduled inter-island flights in Palau is Pacific Mission Aviation which also does the scenic flight over the Rock Islands (which I highly recommend).
They have scheduled flights on Tuesday and Saturday from Koror to Angaur and Peleliu. There are only small single propeller flights available for 5 and 9 passengers.
Tuesday: 9 am departure at Palau International Airport. 9:45 am departure from Angaur/Peleliu. Flight time one way is 30 min.
Saturday: 9 am departure at Palau International Airport. 11:30 am departure from Angaur/Peleliu. Flight time one way is 30min.
If this doesn't fit your schedule, your only option is to charter a flight for $400 for up to 5 people.
Another airline doing scenic flights and charter flights (but that have no scheduled flights) is Smile airline tours.
Getting around Koror and Malakal
While there's a bus going around Koror, you will have to book a tour with one of the local tour companies if you want to see different parts of the country. Alternatively, you can rent a car from one of the few car rental companies in Koror.
Most higher-end restaurants in Koror have complimentary round-trip pickup and drop-off from anywhere in Koror and Malakal.
If you want to explore outside Koror and Malakal, you are required to rent a car. Car rentals are cheap and easily available with a large variety of options, from small Japanese cars to a pink Mustang Cabriolet.
Travel Agencies in Palau
Unfortunately, there is little in Palau that you can do without booking a tour.

And if you want to go snorkeling, do a mud bath at Milkyway, Swim at JellyFish lake, or even visit some of the nicer beaches, booking a day tour is your only option.
I made three different day trips while here. Twice to the Jellyfish Lake, with snorkeling, Milkyway, and a long day trip to Kayangel.
Most agencies offer the same types of tours, but some offer longer day trips and different stops along the way, so it's worth checking around.
RITC PALAU is a Japanese-run tour company with an awesome English-speaking staff. Super-efficient and can highly recommend them. I made two-day trips with them.
Fish N Fins is one of the oldest companies on the island. Mainly a PADI Dive center (5*) but they also offer day trips to Rock Islands/Jellyfish Lake and bring snorkelers along on scuba diving trips. They also offer ATV trips through the Jungle in Palau. I made a one-day trip with them and I can highly recommend them.
SamTours highly recommended dive center.
Palau Impac offers a lot of different day trips, some only offered by them. It was recommended by my hotel in Koror.
NecoMarine Dive center which offers various day trips.
Paddling Palau offers kayaking trips from day trips to longer trips with camping on remote islands.
Palau 7th Wonder, Dive company also doing land tours.
Peleliu Adventures is currently the only tour company on Peleliu.
Sky Dive Palau for skydiving
Scenic Flight Palau
Pacific Mission Aviation. The company I used, I can highly recommend them.
Smile Airline Tours.
Palau Helicopters for helicopter tours.
Tourist Facts when Getting to Palau
Apart from the research, you will do when finding out how to go to Palau Island, there are plenty of other important things to take note of.
Palau Environmental Laws
The Island of Palau is home to some of the world's strictest environmental laws and was the first nation in the world to include environmental protection in its immigration laws.
Palau banned sunscreen containing any of the 10 ingredients they find to be damaging to the coral. This was effective from the 1st of January, 2020.
Shops selling banned suncream or visitors caught importing it can get fined up to $1,000.
Palau has made 80% (500,000 square kilometers) of its water into the world's most significant no-fishing zone. This was done to protect its world-class marine life.
Unique Destinations
The incredible Jellyfish lake with millions of harmless jellyfishes and the breathtaking Rock Islands are UNESCO World Heritage Sites. Palau is also home to the world's smallest capital, and a lot more.
Bloodiest WW2 Battle
Unbeknownst to most people, Palau was home to one of the bloodiest battles in WW2. To this day, there are old war relics like tanks, bombs, and fighter jets from the war laying all around this pristine paradise. These serve as reminders about when this paradise was turned into hell for over 2 months in 1944.
Palau Population
Palau is such a tiny country with a population of just above 18,000 (February 2020 numbers), making it one of the smallest countries in the world in terms of population.
With more than two-thirds of the population living in Koror, the only real town in the country.
Climate
Palau enjoys pleasantly warm weather all year round. The average temperature is 82°F (27°C). Rainfall can occur throughout the year, and the annual average is 3,638 mm (143.2 inches).

Although rain falls more frequently between July and October, there is still plenty of sunshine during these months.
The average humidity in the country is a staggering 82%.
Language
The island nation of Palau has five official languages, Palauan, English, Japanese, Sonsorolese, and Tobian.
With Sonsorolese and Tobian only being spoken on the very remote islands of the Sonsorol island group – where the population is only 40!
All dive shops have multilingual staff from Germany, Japan, Spain, France, China, etc.
Almost all the staff that's working in restaurants, bars, hotels, and shops are from the Philippines, where Tagalong is widely spoken. But everyone and everywhere speaks fluent English all over Palau.
Time Zone
(UTC+09:00) the same timezone as Japan, South Korea, and the Eastern Part of Indonesia.
Electricity in Palau
110 Volts 50/60 Hz USA type flat 2-pin plug or 3-pin in older guesthouses/hotels while the new Palau Hotel also have European style plus and USB power plugs.
Money & Currency in Palau.
The American dollar is the official currency of Palau and is accepted everywhere, including hotels, supermarkets, dive shops, etc.

All places accept international Visa and Mastercards, but American Express is not widely accepted around the country.
There are a few banks around Koror with ATMs where you can withdraw USD dollars, but they were often empty during my 10-day visit here.
If you want to exchange some other currency, your hotel or the banks are your best bet.
Is Palau safe?
This tiny country in the South Pacific is one of the safest in the world. While domestic violence is not unheard of, violence against tourists is non-existent, Peleliu has a problem with drunk driving, so you better be careful when walking around in the evening there.
Internet In Palau
Your sim card from home will not work in Palau as international roaming is not available here. So no matter where you are from, your local sim card is useless in Palau.
While all higher-end and mid-range hotels offer free wifi, the cheaper ones require you to buy 24-hour internet cards for 2 USD.
The best coffee shop to go to for coffee and to work on your computer is Coffee Berry.
Local Palau Beer
Red Rooster Brewery offers five different types of beer plus one cider. But only 3 of the beers are available in cans.
Like every country with respect for itself, Palau also has its own beer brewery, the Red Rooster Brewery. The local beer in Palau is worth a try.
The small local brewery located in Malakal has five different beers for sale: Amber, Light, Stout, Wheat, and a Tropical Ale, plus one cider for sale.
The best place to try all of them is either at Red Roaster Cafe or at the Canoe House (The best Pizza in town).
What to Pack for Palau
First of all, be aware that there's very little to buy in Palau. You can, however, buy all kinds of toiletries, dive gear, and clothes from companies like Quicksilver, Rip Curl and Billabong, etc. – but that's about it.
You will have to bring everything you need to Palau. There's nowhere to buy cameras, memory cards, and other digital accessories around the country.
You will also have to bring all the books you need since there is no bookstore here. Kramers bar next to the ferry port does have a large selection of books to swap for used books.
There's not even a cinema in Palau. So, be sure to fill up your tablet/computer with movies before you get here to keep you entertained.
Laundry is cheap on Koror so you won't need to bring too many clothes. And since Palau has a warm tropical climate all year round, shorts, flip flops, and a few light t-shirts and shorts are all you need for clothes.

But during the wet months, rain can occur almost daily – so bring a light rain jacket along.
Almost all restaurants keep blasting their aircon, so it's recommended to bring a light sweater.
Everything You Need to Know about How to Get to Palau Island
The next time someone asks 'how do you get to Palau island', you're going to know exactly what to say. This unique holiday destination is well worth the addition to any traveler's bucket list.
Whether you're diving in the crystal clear waters or enjoying a local brew, Palau has plenty of fun things on offer – just make sure you come prepared.