Iraq, it's not the most obvious tourist destination. But with the security situation improving all over the country, now is the time to visit one of the most historical countries in the world.
Visiting Iraq is well worth the money spent as it has a favorable exchange rate for most western travelers.

With Iraq tourism on the rise, you won't be alone in your exploration of this ancient country with an incredible history.
One of the more pressing questions asked is: is Iraq safe for American tourists? The answer is yes for the most part, especially if you're visiting famed tourist spots. Visit Iraq for an epic experience you won't soon forget.
Planning to Visit Iraq?
Iraq is considered to be the birthplace of many of the Earth's oldest civilizations, including the Babylonians and the Assyrians.

Iraq is home to five UNESCO world heritage sites, and tens of thousands of archaeological sites are spread all over the country.
Saddam Hussein ruled the country with his iron fist for 24 years. This was right up until the illegal American-led invasion of Iraq in 2003.
After 16 years of internal conflicts raging around the country, the situation has improved. It is safe enough now for Iraq to welcome foreign tourists back.
But unfortunately, the visa process is full of bureaucracy and paper mills, making visiting Iraq rather a painful process.
But if you do manage to secure one of the most difficult tourist visas in the world, Iraq will surprise you in all but a positive way.
I always live with the idea that there are no dangerous countries. Yet there are dangerous places or dangerous times. Can you visit Iraq safely? Yes, you most certainly can.
You just need to be discerning about where you are and at what time.
Complete Guide to Traveling to Iraq
This Iraq travel guide is for the Southern part of Iraq and NOT about the Kurdish autonomous region in the Northern part of the county. Because knowing how to travel to Iraq is very important.
All information in this guide is from when I traveled around Iraq and visited: Baghdad – Ctesiphon – Samarra And The Great Mosque – The Ziggurat of Dur Kurigalzu – Karbala – Babylon – Kufa – Najaf – The Mesopotamian Marshes – Basra – Baghdad.
Things You Should Pack Before Going to Iraq
No, you do not need to bring your bulletproof vest and helmet. But you can easily buy it in Baghdad if you want one.
Nothing special is needed for Iraq, but I would recommend bringing a few good books for the long drives around the country and soft foam earplugs for when you are going to sleep; there is a lot of noise in the streets.
Is Iraq Safe now?
Safety is still a huge concern in Iraq, and every western country is strongly against traveling to Southern Iraq. While the situation since April 2019 has been calm for more than a year, things can change very fast.
Your guide will know the daily security and situation of the part of the country you will visit.
I personally felt 100% safe the entire time during my visit here.
All of the local people, military, militia soldiers, and religious scholars were all extremely friendly and welcoming.
But it's highly recommended that you register with your Embassy when you are going here, and you should have valid travel insurance, which should also include kidnapping insurance.
Big insurance companies like etc. World Nomads will NOT cover you here, but First Allied will.
From the Foreign & Commonwealth Website:
The Foreign and Commonwealth Office (FCO) advise against all travel to:
Anbar province
NinewaNinewah province
Salah-Al-Din province
Diyala province
Tamim (Kirkuk) province
in Erbil province, south of Road 80, and within 10km of the border with Nineveh province between Road 80 and Road 2
The FCO advises against all but essential travel to the rest of Iraq, including the remainder of the Kurdistan region.
The Iraqi Prime Minister announced the defeat of Daesh in Iraq on 9 December 2017. However, there is still a risk of terrorist attacks and kidnappings across the country. You should remain vigilant and monitor media reports.
Be aware that Iraq, like any other place that has recently been a war zone, has minefields everywhere. Do not walk into fields, especially unmarked ones, unless you're absolutely sure that it's safe.
How to Get a Tourist VISA for Iraq
Can you travel to Iraq without a VISA? No, so knowing how to visit Iraq is very important. You will need a VISA to travel, and often visiting Iraq as an American can be quite troublesome, but it can be done – and is well worth it in the end.
*Update from 15 March 2021, now 30 countries can get the Iraq Visa on Arrival, without pre-arraignment.
Countries that can get Visa on arrival for Iraq (VOA)
USA, UK, France, the Russian Federation, and the People's Republic of China)
European Union countries: Austria, Belgium, Bulgaria, Cyprus, the Czech Republic, Denmark, Estonia, Finland, France, Germany, Greece, Hungary, Ireland, Italy, Latvia, Lithuania, Luxembourg, Malta, the Netherlands
As well as citizens of Japan, South Korea, Canada, Australia, New Zealand, and Switzerland.
But be aware that still if you get the visa, you will need a guide to visit all the historical sites around the country. All other countries still need to pre-arrange their visa for Iraq.
Obtaining a travel visa to Iraq is complicated and very time-consuming. You first have to apply at the Ministry of Foreign affairs in Baghdad; your local contact will have to do this for you.
When this application is approved, you will receive a letter so that you personally can then apply at an Iraq Embassy. This will have to be in your country of residence.
Visa Restrictions:
Visas will be refused to citizens of Israel and travelers with proof of travel to Israel.
The whole process will take around 4-6months.
There are five types of visas for Iraq:
Visiting relatives: Only possible if you have family in Iraq; proof required.
Pilgrim visa: This is only possible when you are part of an organized religious pilgrim trip. Usually to places like Karbala, Najaf, Kufa, and Samara.
Business visa: Going for work purposes.
Press / Media visa: Every journalist requires this visa.
Tourist visa: The most difficult visa to obtain and the one I used. You can't just apply for this visa. You need to apply for a group tourist visa which requires you to be a minimum of five people applying together. You also have to travel along with who you applied for the visa with. Update November 2019: ALL 5 people traveling together will now have to apply for the visa at the same Embassy. Even if you are from 5 different countries. Making the visa even more difficult to obtain.
Even with the visa secured, are you required to have a Government licensed guide and driver at all times. You will also have to stay in Government licensed hotels for registration (This is very strict).
You can not legally do Couchsurfing or stay with local friends on a tourist visa. You will also need a permit for each place you want to visit outside Baghdad.

Every site, every city, a permit for each and every one. Gotta love the bureaucracy.
Also, be aware if you do get the visa and you arrive in Iraq, will you have to leave Iraq the same way you arrived.
If you arrive at Baghdad airport, you will have to leave the country from Baghdad airport.
If you arrive overland from Kuwait, you will have to leave Iraq overland back to Kuwait.
It's currently not possible for foreigners to travel overland from the Kurdish Autonomous Region in the north to southern Iraq.
While it's possible to arrange an Iraqi tourist visa yourself, is it A LOT easier to go on a tour since you are required to have a guide anyway.
There are currently three western companies offering a trip to southern Iraq (Lupine Travel, Hinterland Travel, and Alwaseilah Tours), and I know one local contact. If you have 4 friends join you and want to arrange it yourself, send me an email, and I will give you the contact in Iraq who can arrange the visa or help you with arranging a tour or guide.
When you are booking the trip with either the local contact or the international travel companies, then transport, guide, and accommodation will be included, the price depends a bit on what and where you want to go, and what type of transport accommodation you require, but expect 150-250 USD a day.

How to Travel to Iraq
If you already have an Iraq visa, getting here is easy.
More and more airlines have flights to and from Iraq, and the national airline of Iraq, Iraqi Airways, has direct flights to all major and even some smaller cities in Europe.
There are currently 3 International Airports in Iraq + 2 in the Kurdish autonomous region in the Northern part of the country.
There is a new airport in Karbala currently being built. It is expected to be the country's largest airport upon completion.
Baghdad International Airport (BGW), previously known as Saddam International Airport.
Basra International Airport (BSR)
Najaf International Airport (NJF)
The easiest way from Europe and America to Iraq is either with Austrian Airlines, Emirates, Iraq Airways, Turkish Airlines & Qatar Airways.
Star Alliance Alliance: Austrian Airlines flies four flights per week from Vienna to Baghdad.
Egypt Air: One flight a day between Cario and Baghdad.
Turkish Airlines flies twice daily from Istanbul to Baghdad and once a day to Najaf as well as Basra.
One World Alliance:
Qatar Airways flies twice daily from Doha to Baghdad and once a day to Najaf and Basra.
Royal Jordanian Airlines Flies twice daily between Amman and Baghdad and once a day to both Najaf and Basra.
SkyTeam Alliance:
Middle East Airlines flies twice daily between Baghdad and Beirut and once a day to both Najaf and Basra.
Saudia flies once a day between Baghdad and Jeddah in Saudi Arabia.
Budget Airline:
FlyDubai flies twice a day between Baghdad and Dubai.
Air Arabia flies once a day between Baghdad and Sharjah.
Pegasus Airlines flies once a day between Baghdad and Istanbul.
Iraqi Airways:
From Neighboring Iran and Syria.
Syria:
FlyDamas: Damascus to Baghdad, Najaf, and Basra twice a day.
Syrian air: Baghdad and Najaf once a day.
ChamWings: Damascus to Baghdad, Najaf, and Basra twice a day.
Iran:
More than 5 Iranian airlines offer flights from all big Iranian cities to Baghdad, Basra, and Najaf.
Overland Travel to Iraq
Iraq is surrounded by Iran to the east. Kuwait is to the south, and Saudi Arabia to the southwest.
Jordan is to the west, Syria to the north-west, and Turkey to the north.
But currently, only the land borders between Kuwait, Iran are open for foreign travelers.
The land border between Turkey and Iraq is open, but you can NOT travel from the Kurdish Autonomous Region in the north to southern Iraq overland, but you can fly between them.
Iran:
The main border crossing is the Khosravi International Border post, around 90km northeast of Baghdad. NB. No Iranian visa on arrival when crossing land borders.
Jordan:
There's an important border crossing between Tarabil and Karamal, this is a very important border crossing for Iraq, so there is a lot of military presence in the area.
The border was controlled by ISIS only a year ago, and there are a lot of ISIS sleeper cells still in the area.
Syria:
Before the war, there were two border crossings between Iraq and Syria.
Al Walid on the Iraqi side and Tanaf on the Syrian side. The Syrian side is currently illegally controlled by the USA, which refuses to give the area back to Syria. Quasybah on the Iraqi side and Abu Kamal on the Syrian side.
This is only a few KM from ISIS's last stronghold, the small Syrian town of Baghouz. Located on the banks of the Euphrates River, this is where ISIS officially got defeated on 23 March 2019.
But there are still more than a thousand ISIS terrorists hiding out in the vast desert in that part of Syria and Iraq.
ISIS is still attacking civilians and military checkpoints in the area on a weekly basis.
The first local bus since 2014 crossed the border between Syria and Iraq at Quasybah and Abu Kamal on 22 April 2019. Don't expect this border to be open for foreigners yet for many years.
Remember that you will have to leave the country by the same border as you enter the country.
How to Travel Around Iraq
As a tourist, you are required to have a government-licensed driver and guide with you at all times. So long-distance bus traveling is out of the question.
But you can take the local overnight train from Basra to Baghdad, but your guide will have to accompany you.
You will have to obtain permits for every single place you want to visit around the country outside Baghdad.
You have to tell your guide/contact to arrange these well in advance of travel. This is not always required anywhere anymore. But regulations can change fast.
There are hundreds if not thousands of military and private Shia militias checkpoints along all roads around the country.
Some only a few hundred meters between each other.
The checkpoints are less frequent in the southern part, but around Baghdad and the holy cities of Samarra, Karbala, Najaf, Kufa, there are hundreds.
You will NOT be able to pass through the checkpoints without the proper permits and paperwork.
Even when you pass one checkpoint, the next checkpoint has to check your papers again, even if it's less than one km between them.
Often your guide has to make a few phone calls to get you through the checkpoints, even if you already have the right paperwork. Road Traveling in Iraq takes A LOT of time due to this.
Top Places to Visit in Iraq
Baghdad the capital
Basra the second-largest city
Karbala
Najaf
Kufa
Babylon Ruins of the great city
Samara and the great Minaret
The Ziggurat of Dur-Kurigalzu
Mesopotamian Marshes
Money in Iraq
The local currency in Iraq is the Iraqi dinar. However, you will also be able to spend Euros and US Dollars for payment in hotels and souvenir shops.
There are a few ATMs around Baghdad that accept international bank cards. The bigger hotels also accept payment with bank cards, but everything else in the country is done with hard cash.
Don't rely on ATMs while in the country. Be sure to bring enough Euro/USD for your entire trip.
There are money exchangers at the arrivals of the airport and at the hotels. But for the best rate, head to the bazaar. The conversion rate fluctuates from day to day, with the rate in Baghdad often being better than in other cities around the country, so it's worth changing your money in Baghdad.
Internet and WIFI in Iraq
Every hotel has free wifi, and surprisingly most of Baghdad is also covered with free wifi hotspots provided by Wiman.
Wiman has more than 37186 free wifi hot spots around Baghdad and 7829 free wifi hotspots around Basra.
The speed is not great, but it does work flawlessly for social media and emails. A local sim card with unlimited internet for 30days costs 20USD.
There are no internet restrictions in Iraq, and Social media is not blocked here, so there's no VPN needed here like in some of the neighboring countries.
Electricity in Iraq
Power plugs in Iraq are both European standard two pins and British standard plugs, both standard voltage of 230V with a frequency of 50Hz.
Some hotels have both European and British-style plugs in the rooms. Others had only European-style plugs or British-style plugs, so it's highly recommended to bring a power travel adapter.
Power cutsPowercuts are not uncommon, so it's wise to bring a power bank and a headlamp.
Drinks & Alcohol in Iraq
Despite what most people think, Alcohol is completely legal here, but you should still be very respectful and think about where you enjoy your drink. Iraq even produces its own Beer, Arak, and Vodka, which is easily available from public alcohol stores in Baghdad.
There are also normal bars in every international hotel. Alcohol is not sold in the holy cities. Even though alcohol is legal in Iraq, drinking in public is an absolute no.
Only drink bottled water. It will usually be sold at vendors and large stores and will be easy to find.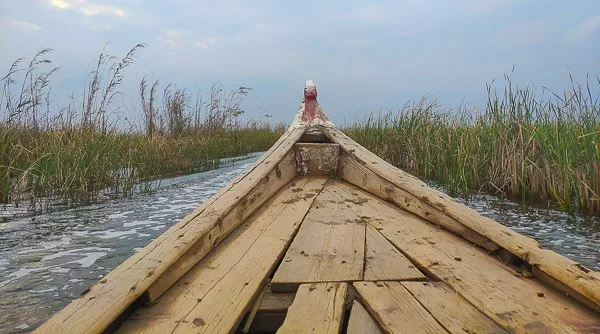 Can You Take Photos?
Iraq is pretty laid back and relaxed when it comes to taking photos. You should never take photos of soldiers, checkpoints, government buildings, and inside the holy Shia shrines in Najaf, Karbala, and Kufta.
But more or less, everything else allowed. Most locals were happy to have their photos taken, and most soldiers also asked for a selfie with me.
The military in Iraq was miles more relaxed than the military in neighboring Syria and Iran when it comes to taking photos.
Language in Iraq
Both Arabic and Kurdish are the official language in the country, but surprisingly many people spoke a bit of English, even street vendors.
A lot of Iraqis that fled the country as refugees during the last 16 years have now moved back home.
So don't be surprised if the locals you meet speak German, French, Swedish etc.
The money exchanger I used in Baghdad had lived in the Netherlands for 12 years and had recently moved back home.
The waiter in one of the restaurants in Basra spoke Swedish.
Guide Book for Iraq
The only company currently making guide books for Iraq is British Travel Company Bradt Guide. The latest version is 2015 realize, the second edition.
How Much is Left of Saddam Hussein's Influence in Iraq?
Saddam Hussein ruled Iraq with an iron fist for 24 years, and especially his oldest son Uday Hussein spread fear among the violence.
When Saddam Hussein was removed from power in 2003 and later arrested on13 December 2003, it sparked huge celebrations all over the country.
Now, 16 years later, almost everything from the area has been removed, and it's like he never existed, at least in public. The current leaders of Iraq are the ones Saddam tried to suppress.
As such, they are not very keen on Saddam Hussein preserving his legacy.
So everything with Saddam Hussein is banned, and all his humongous portraits have been plastered with a portrait of Imam Ali, and all but one of his statues have been destroyed.
But if you look, can you still find relics from his time. And if you talk to the older generation of Iraqis that lived under his hard regime, you might get surprised that most people in the country are not afraid of speaking of the old days, and you might be surprised about what they think, especially when compared with the current times!
And surprisingly did every local I talked to openly admit they missed the time he was in power, and the reasons were: "Our country was safe during his time", we never had to be afraid of suicide bombers during his time", "things were working during his time". An even older woman I talked with admitted they had a lot more freedom during the time of Saddam than now in 2019.
A common saying in Iraq is, "Saddam was a horrible person, but what's been happening the last 16 years has been so much worse, that Saddam Hussein is an angel compared to what the country is going through now."
Final Thoughts on Tourism in Iraq
With all this in mind, you're probably wondering – is Iraq a good place to visit? It's a wonderful place to visit. And with so many unique historical sites, it's one you won't want to miss.

I hope you use my guide to learn how to go to Iraq, as you're sure to have an amazing time. A vacation in Iraq comes highly recommended! Just be sure to check up about the current safety situation first.